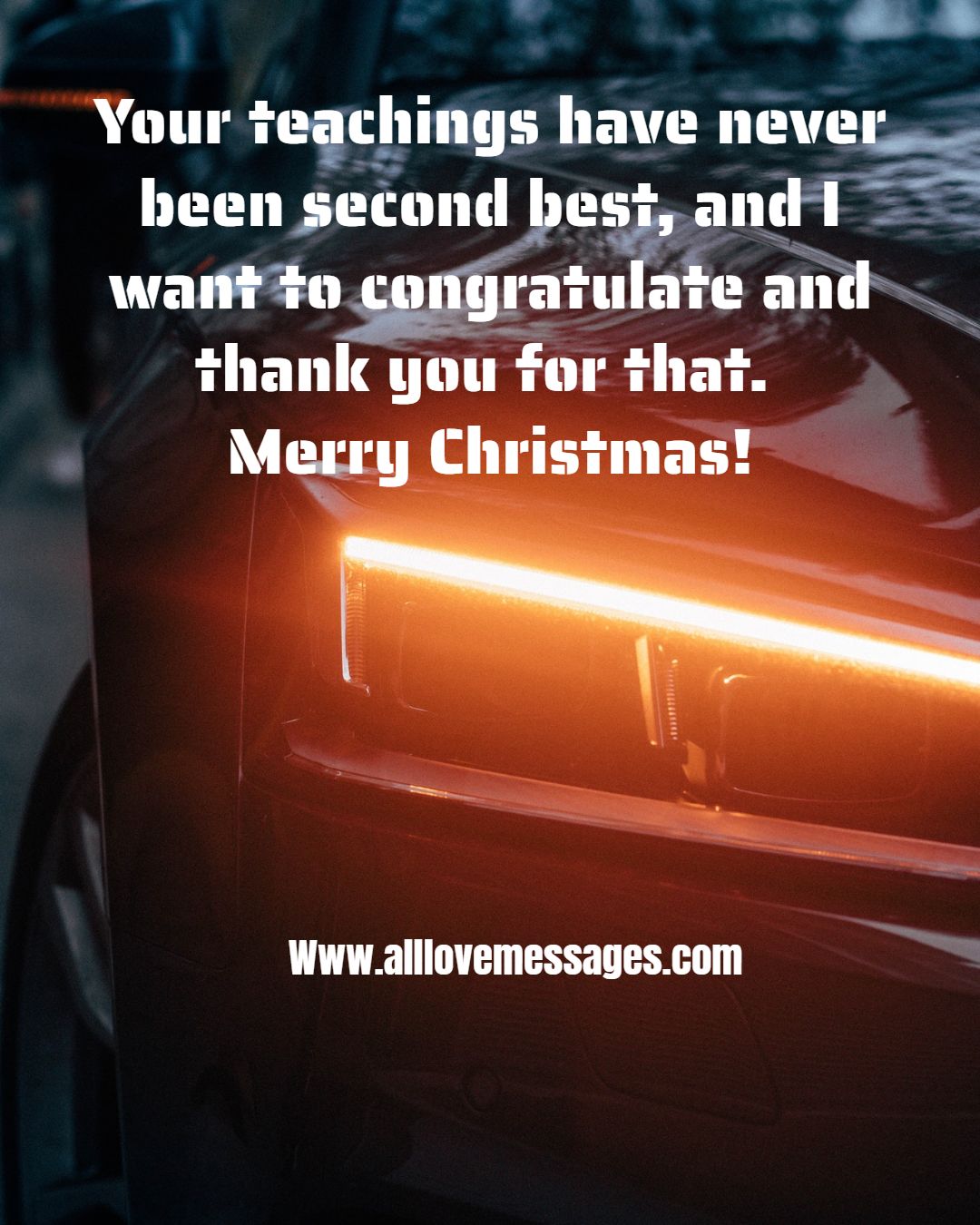 Wishing you a truly Merry Christmas, dear teacher! May your day be filled with only incredible people and awesome things around you as you celebrate this 25th day of December.
At first, I was so afraid of taking your class, but you made learning more fun than I imagined. Thank you and Merry Christmas.
Merry Christmas to the best teacher in the whole world!
Jingle bells, jingle bells, the teacher gets an "A." You taught me well, parents pride will swell — lots of gifts for Christmas Day!
After being in your class, I know I can reach for the stars—May your Christmas shine as bright as the star atop your tree.
Dear Teacher: Merry Christmas to my teacher, friend and biggest fan.
As a teacher, you taught me math, but as a person, you've set an example for how to live a respectable life. Thank you and Merry Christmas.
Merry Christmas to the teacher who first met me as a bratty trouble-maker, but hung in there and taught me how to behave respectfully.
Merry Christmas, teacher. I hope you get the same amount of gifts as you've given me — that's a lot!
When I ask for Christmas Blessings, I ask for a wonderful Christmas in your household. I really enjoy the way you make learning fun.
To my beloved teacher: your patience and determination had transformed my life completely. Thank you for bringing the best out of me.
Merry Christmas to the best teacher in the world. You've been such a great role model, I now want to be a teacher myself.
Happy Holidays to a teacher that always offers kindness, knowledge, and unconditional support.
Because you're my teacher, my parents are happier, my grades are better and I'm learning to love school. Merry Christmas!
Enjoy your Christmas vacation teacher. I'm actually looking forward to seeing you in the new year!
If Santa gives more gifts to teachers who have been good, you're going to clean up!
My parents said they told Santa what a good student I've been this year. I think it's because you're such a good teacher.
Roses are red, icicles are clear. Merry Christmas, teacher, and a Happy New Year.
College is hard academically and socially. As you enjoy your winter break, I send my gratitude with you.
Merry Christmas, teacher. I'm sorry if I was a little bit bad this year. You don't know Santa, do you?
You are a great a tutor and I believe that you deserve all the appreciation, love and joy in this world. Wishing you a wonderful Yuletide!
It takes wonderful people like you to make this world a very bright place for everyone. Thank you, dear teacher. I wish you a happy Christmas!
Merry Christmas, Sir/Madam! I admire you so much for all your selfless efforts in making my world a much better place. May you have a fabulous and happy festivity.
I am really thankful for sharing your knowledge with me and my prayer is that you have the most incredible holiday as you celebrate this yuletide. Merry Christmas, Sir/Madam!
Dear Sir/Ma'am, I want to take the opportunity that this festive season brings to express my purest gratitude to you for all that you have done for me. Wishing you a Merry Christmas!
My full respect and admiration go to a truly wonderful person like you. I will forever be proud to be your student. Wishing you a Merry Christmas and a fun-packed holiday!
You are inspirational, fantastic, wonderful, spectacular, awesome, brave, and above all, you are my hero. Merry Christmas to you, dearest teacher!
Dear teacher, I am wishing you love, happiness, and prosperity as you celebrate this Christmas season. I pray you have a spectacular and a memorable holiday!
In you, Sir/Madam, we have the greatest source of inspiration. We are so very proud of you, and it's our greatest wish that you enjoy this holiday in ecstasy. Merry Christmas!
May the Holy Spirit guide and protect you and your family as you commemorate this holiday period. Wishing you a joy-filled Christmas season, dear teacher!
Wishing a fabulously happy Christmas to you, dear teacher! It's my hope and prayer that you enjoy this festive season with all the love, peace, and fun there is in the world, and may they continue throughout the coming years.
It is my greatest joy and happiness to have a role model and a hero who is as splendid as you are. Merry Christmas, and I wish you countless blessings as you celebrate this holiday season!