After some years of being together, we often forget about caring for each other, or at least, being a bit romantic. The passionate flame of love of the beginning of the relationship dies over the years and though you still love each other somehow, there is something missing. Don't worry, it happens to everybody –even if they don't admit it. Routine, children, money problems, everyday life… anything can ruin your marriage or make it very boring. In order to stop this, we give you a solution: I love you messages for husband.
Romantic and Sweet Love Messages for Husband

My angel the one that gives me joy, you are the one that makes my day complete with your comfort, my baby boo I cherish you with all my heart.
 My honey you are my priority, you come first before anything on this earth, your love for me is enough security for me, just knowing that you love me and will always protect from myself is enough for me. I love you, my sweetheart.
Whenever I wake up every morning with you by my side, I see all of my day come true, I love it when I say I love you my king.
Nothing in this world gives me more joy than you in my life, thank you for loving me so much , and for making us the best of lovers.
I want to give you all I could even it means giving my life for you, I have given you my heart ever since they day we met, I have just one wish that you should handle it with care because I am already taking yours as part of me. I adore you so much.
My angel, God has giving you to me as a blessing, you are so unique your kind is hard to find, I love you for who you are. You are my handsome honey.
As I lay my love on you is all I want to do for the rest of my life, every time I breathe of you and I, you open up your heart to show me all the love you have for me. I love you so much.
The best thing life has brought to me is you. Thank you for being my partner all the way.
Every beat of my heart belongs to you, every ray of sunshine comes from you, and every whiff of air that I breathe, I breathe for you.
I stole U from the alphabet because U belong to me!
Dear hubby, We make an awesome couple you know, I may not have too many gestures to show, But, I truly love you from my heart, No one can ever make us apart, Love you loads!
Do you know what happiness means to me? Happiness is to wait for you after a hard working day, to cook a delicious dinner, to take care of you when you are sick and to support you in moments of triumph. From now on, we have a common destiny and one heart for two.
Being someone's first love may be great, but to be their last is beyond perfect. I love you!
Each time I look at you, I just smile to myself and think, 'I certainly could not have done better.' You are perfect the way you are. I love you, honey!
Some people believe that marriages are dicey. We show that marriage does not end the love, but nurtures it every day. I admit that the affection you have for me never ceases to amaze me. I adore you!
Many people say that once you get married, the romance is over. You do not know the pride I take in our relationship because there is no day that passes by without us filling each other with words of kindness and love. Thanks for being you, I love you dearly.
The words I, Me and You ceased to matter when life became about us.
You make me laugh, wipe my tears, hug me tight, and keep me strong no matter what. You are a promise that I will have a friend forever.
Amidst the suffocation caused by life's problems, your love comes as a breath of fresh air. Love you, my dear.
My life's biggest achievement is that I get to be with an awesome man like you every day!
Years and decades can go by, but I will never forget the moment when you held me in your arms, looked into my eyes and whispered 'I love you' in my ear. Still gives me the goosebumps!
No matter what you think of yourself, for me, you will always be the most attractive man in the world who makes me go weak in the knees even today.
Every day of my life is just perfect because it starts and ends with loving you!
I make our marriage organized; you make it outstanding. I make our marriage practical; you make it perfect. I keep it grounded; you give it wings. I love you!
My dear hubby, you have done something that I'll always be grateful to you for. You gave me a gift – a new life, which is a continuation of our love. You make my life meaningful.
Your arms have held me at my weakest, your eyes have seen me at my worst, and your heart has loved me through the darkest of times. I'm so thankful for you and the love we share.
They say that men are quite predictable, but I beg to differ. You always know how to surprise me.
I would want to lose myself forever in your eyes.
God gave me my husband so we could weather the storms of life together.
Baby I'm yours and I'll be yours until the stars fall from the sky, until the rivers all run dry. In other words, until I die.
I cannot promise you an easy life, or that I will not disappoint you. I cannot promise that I will be the perfect wife. But I can promise you that I will choose to love you every day.
I trust you, but not because you are my husband. The reason I trust you is because you are the epitome of everything that a man should be.
Your love is the strength that drives me to do everything for this family. You are the armor that shields me from tears. I love you so much!
I ask myself every day… How did I get so lucky to marry my best friend in this world.
The very first moment I laid my eyes on you, I knew our hearts were meant to be. You are my courage, my angel. You are my soldier, you saved me. I love you.
You are the source of my joy, the center of my world and the whole of my heart.
I love you in the morning and in the afternoon. I love you in the evening and underneath the moon.
You have no idea how good it feels to wake up every morning knowing you are mine and I am yours.
Funny love messages for husband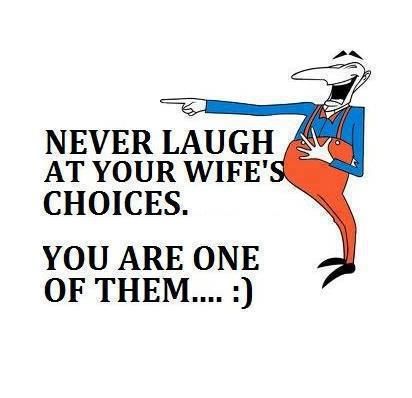 Love is sharing your popcorn. I love You.
I love you more than coffee, but please don't make me prove it.
Sometimes i look at you and think.. Damn…. he is so lucky man.
As a man in a relationship you have a choice.. you can be right or you can be happy.
I love you with all my belly. I would say heart but my belly is bigger.
Husband and wife relationships are like the relationship of Tom and Jerry. Though they are teasing and fighting, but can't live without each other
I love you messages for husband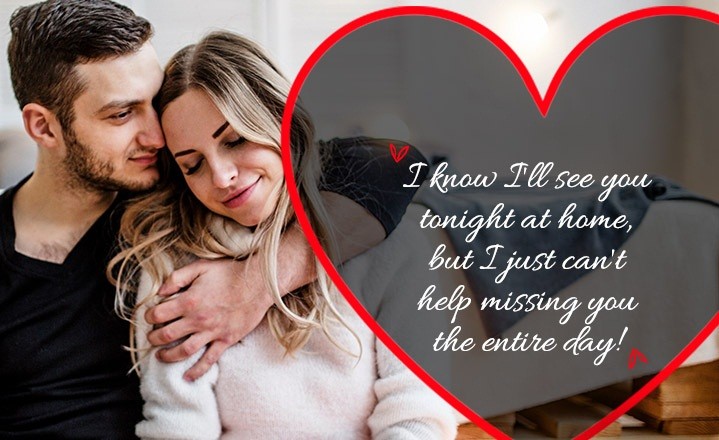 I love you for all that you are, all that you have been and all you're yet to be.
You are the only person with whom I can be ME because you are the only person who loves me for what I am and not what I can be.
Every single day that I spend being your wife, I realize how lucky I am to live such an amazing life.
Our love sings with passion and sensation. Our marriage hinges on care and affection. I love you.
The only thing better than me having you as my husband is our children having you as their father.
You are my paradise, and I would happily get stranded on you for a lifetime.
Every second with you is special. Years have gone by but I still long to see you again. I love you, dear. I am missing you so much right now.
Darling husband, you are a blessing in disguise to me. But when you are not around, I feel like I have been denied what is mine. This is because you belong with me and nowhere else. I miss you.
If I had my life to live all over again, I would find you sooner so that I could love you longer.
I never had a moment's doubt that I loved you. I believe in you completely. You are my dearest one, my reason for life.
The success of marriage comes not in finding the "right" person, but in the ability of partners to adjust to the real person they inevitably realize they married.
No relationship is ever perfect and I know I'm far from perfect, but as long as you're willing to try, I'm willing to stay through anything.
Your love is the doctor to my wounds, friend to my sorrows, mentor to my dilemmas, teacher to my actions, companion to my joys.
You are my always & forever. My happily ever after. My soul mate. My best friend. My dream come true. My one & only. My shoulder to lean on. My heart to melt into. My husband. My everything. For always!
You are the poem I never knew how to write, and this life is the story I always wanted to tell.
If I could reach up and hold a star for every time you've made me smile, the entire evening sky would be in the palm of my hand.
You are the sun in my day, the wind in my sky, the waves in my ocean, and the beat in my heart.
You are my sailor, my ship and my captain and your love is like a strong, dark, mysterious sea that is forever there for me. I'm happiest when I am with you.
Life is incomplete without a partner. Finding my soul mate in you is the best thing that has happened to me in my life, and I promise to love you more and more. I promise to hold your hand wherever you go. With lots of love.
Through thick or thin, for better or worse, till death do us part! I love you so much, honey!
I am so proud to call you my husband. I love you more with each passing day.
Your love for me is flawless, your commitment impeccable. Your only concern is my happiness, you make me feel so special. I love you.
Every beat of my heart belongs to you, every ray of sunshine comes from you, and every air that I breathe, I breathe for you.
I would never get tired of letting you know that you are the best and I love you!
The best thing that ever happened to me is loving you.
Amidst the suffocation caused by life's problems, your love comes as a breath of fresh air. I love you.
My life's biggest achievement is that I get to be with an awesome man like you every day. I love you.
From all of life's troubles, you have given me bail. My life has become a lovely fairytale. I love you.
Let us rekindle the flame between us because you are exceptional and I don't want to lose you.
You became my mentor, caregiver, and lover all in one, so I will never ask for more.
I could easily say that I love you to death, but I really want to live forever to love you eternally.
Much more than just attraction, lust, and passion, our marriage embodies honesty, care and affection. Love you.
Every day of my life is perfect because it starts and ends with loving you. I love you.
All the best adjectives could never describe a special person like you.
We have been together for so many years that all I can see is my future with you.
It is best that we will be together until the day we live than until the day we die.
I would never trade you for any jewel or gem in the entire world, for you are my most precious treasure.
Some of the most precious moments of my life have been the ones in which I've held your hand and cuddled in your arms. I love you.
The perfect husband as described by magazines doesn't exist. That's because he has already been taken – by me. I love you.
I came upon real happiness when I chose to become yours. I love you hubby.
When we die, I wish that we would become stars so that our love could shine brightly eternally.
My purpose in this world is to gather all your love and give you so much more in return.
Choosing to spend the rest of my life with you is the best choice I have made in my life. You are my refuge, my comfort, and my happiness. There is nothing more I wanted in this life! I love you, hubby.
I love you the way a drowning man loves air. And it would destroy me to have you just a little.
In a sea of people, my eyes will always search for you.