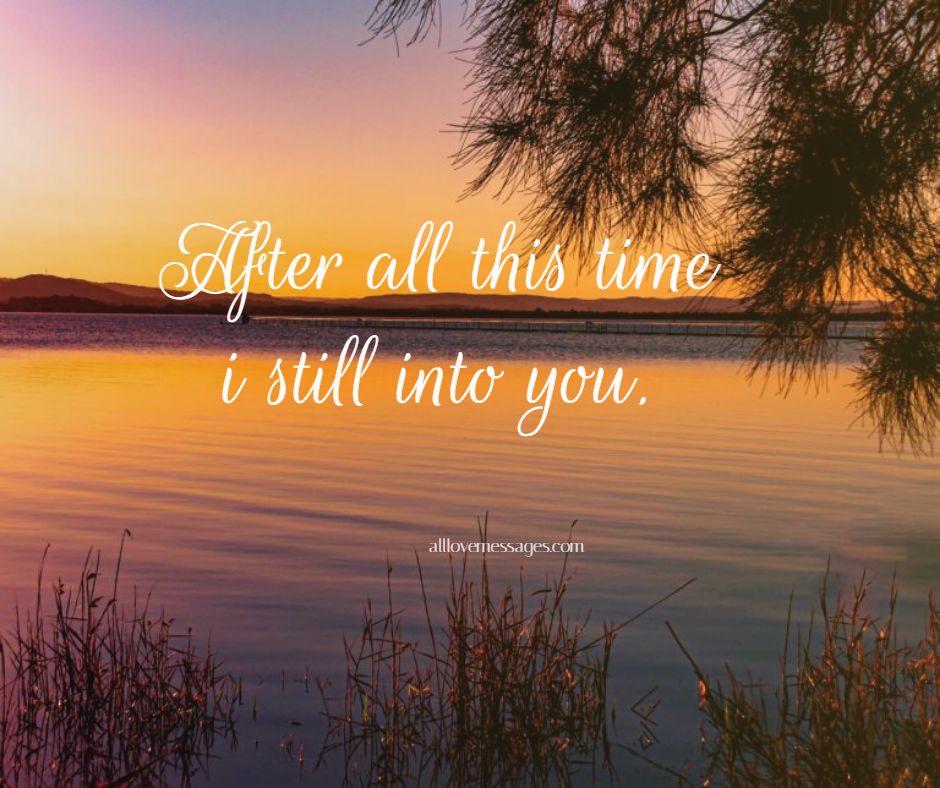 I love you so much that my heart slips a beat when you call my name.
I love staring at you when you are not looking.
I like her because she smiles at me and means it. – Terri Guillemets

Sometimes I just can't ignore the way I feel when I see you smile.

When I see you, I admit I start to lose my grip and all of my cool.

I just had to talk with you. Sweetness is my weakness.

If my love for you is a crime, I want to be the most wanted criminal.

I've found this new disease, it's called LOVE. I know it is contagious because you gave it to me.

You can't be real. May I pinch you to see if I'm dreaming?

The fate of love is that it always seems too little or too much.

Because of you, half the time I don't even know that I'm smiling.

When I'm alone, I think of so many things to say to you, but when I have a chance to tell you, I go speechless.
You are my first and last thought of every day and everyone in between. <3
I pretended to look around, but I was looking at you.
Crushing on someone is the lightest feeling ever. Once the feeling becomes stronger, then that's when the problem arises.
I am secretly in love with my best friend who makes me laugh and gives me the courage to move on.
There's this boy who is not aware that I am his stares gives me butterflies in my stomach.
I think about you often, as much as I hate to admit it to you or to anyone.

I'm so glad you are in my life, but I want to be more than friends.

Why do they call it a crush? Because that's how you feel when they don't feel the same way in return.

A single text from you can change my mood at any moment.
I'll never get over the stupid feeling I get every time you sign on.The one where I think maybe, just maybe…you'll talk to me first.
I'm waiting for the day when you'll tell me that you're thinking about me all the time.
I was praying that you and I might end up together…It's like wishing for rain as I stand in the desert.

When someone says, You two should go out! And you're there like… I wish.

One whisper of your voice and I fade away.

Just because I never start the conversation doesn't mean I'm not dying to speak to you.

I think of you so much that I see you almost everywhere I go.

You captured my heart because you sing a song that only my heart can hear.

Every time my phone vibrates, I cross my finger and hope to God that it is you.

Do you know how much courage I mustered up just to say hi to you? All of it, every drop of it.

You're the one I stay up all night thinking about, coming up with cute things I wish could happen.

Seconds spent with you are the best part of my day.

Even if my parents should ground me or the teacher should send me to detention, just a smile from you will turn my day around.

Don't be surprised if you get kidnapped by a fat man in a red suit o Christmas – for all I want for Christmas is you!

One text message from you is enough to turn my sullen day into a vibrant one.

I secretly fell in love with our midnight talks and your funny jokes and the way you smile.

It's your beautiful personality that I fell for yet everything about you looked very beautiful ever since.

Many of us miss the opportunity to be with our crushes because we fail to recognize their feelings as well as ours.

I smile whenever I think of you but try to display a poker face whenever you are around.

I try to pretend I am just a friend when in all I dream about is you.

Sometimes I am wondering if you can read through me and is just pretending you didn't know I', crushing on you so I won't need to get hurt.

Having a crush is something unplanned and hard to resist.

It's hard to tell other people about your admiration to someone because it's hard to explain something you don't understand.

I am so afraid to tell you I love you and now I have to suffer the view of you loving someone else.

Telling your crush they like you is the best thing you could ever do for yourself but that will let your emotions known.

Don't be afraid of being rejected by your crush because that will give you the strength to finally move on.

I don't know if I would just give up waiting for you and waiting for you to notice how much I love you.

I was praying the someday, you would notice me and tell me that you love me like I pictured you would in my countless daydreams about us.

I am looking at your hands and dreaming that I will be able to hold those close to mine.

I am captivated by your eyes, by the way you move and the way you speak. I am captured.

It is the feeling of butterflies flying through your stomach or heat rising up to your cheeks – having a crush makes you feel more alive, isn't?

When you develop a crush on someone, you don't always see them for who they really are but only the shiny and best parts.

My insides still do somersaults whenever he catches my eyes.

That moment when you created a code name for your crush so you and your friends can freely talk about him anytime, anywhere.

I whisper 'I love you', 'I like you', 'I miss you', when your back is turned and you are not listening.

The only beauty of having a crush is having zero commitments, freedom from responsibilities, and no attachments to worry about. Just look from afar and smile like an idiot.

When I see you online on Facebook, it distracts me from doing anything else because I am wrestling between sending you a message and risk looking like a fool or forever regret having no courage to do it at all.

I fervently wish every night for you and I to end up together…it's the same as wishing for the moon to shine on a bright and clear morning sky.

I will forever be torn between talking to you or forever hold my piece…unless, of course, you talk to me first.

I am already very much grateful for the happiness you brought into my life whenever you smile at me.

An encounter with you is what I pray for before I start my day. Maybe, just maybe, God will be kind enough to grant this silly little wish.

You've got this smile that can brighten up even the darkest corners of the world.

I don't know why I am still loving you in secret when I am already being hurt by it.

I can never let go of my dream that you will finally notice me one day.

I love you in such a way that I don't need to be with you. I'll just help you be happy.

I want you to be happy with someone you love. Even when it means that you have to be with someone Else other than me.

I am now letting go of loving in secret because I can already see your happiness with her and that's something you will never be with me.

I can always offer you the world but it's useless when you would only tell me she is your greatest treasure.

You are hereby under arrest for stealing my heart.

And my mind will always wander to the thoughts of you.

According to science, having a crush on someone only lasts for 4 months. It has already passed the 4-month period. Can this be love or am I really just a fool?

Maybe that's why they call in it crush because that's exactly how you feel when you are rejected by the apple of your eye.

I think I am fine being forever confined to having a crush on you.

You Sat Down Next To Me And I Think I Forgot How To Breathe.

I Know I Am But Summer To Your Heart, And Not The Full Four Seasons Of The Year. – Edna St. Vincent Milla

I am categorizing you under a crush because you are impossibly beyond my reach.

If telling you how I feel will strain what we have, I will rather hold this feeling forever than to lose you.

I am usually not shy around people unless you are around.

When you sit right next to me, my insides burst into flames, my mind races 10,000km/h and my hand sweats like melting ice cubes – that's exactly the reason why I run away whenever you are around.

I choose to be quiet around you or else I will say something stupid. Yes, I am a broken machine around the person I like very much.

Infatuation Is The Language Of A Beautiful Eye Upon A Sensitive Heart. – Joseph Bartlett
And When You Love Someone You Don't Always See Them Realistically. – P. C. Cast
The Mark Of A True Crush… Is That You Fall In Love First And Grope For Reasons Afterward. – Shana Alexander
Dear Crush, The Reason I Hate Making Eye Contact With You Is That I Completely Lose The Ability To Think Properly.
To Be Your Friend Was All I Ever Wanted; To Be Your Lover Was All I Ever Dreamed. – Valerie Lombardo
If I Had A Single Flower For Every Time I Think Of You, I Could Walk Forever In My Garden. – Claudia Adrienne Grandi
I Wonder What I Look Like In Your Eyes.
Admiration Is A Very Short-Lived Passion, That Immediately Decays Upon Growing Familiar With Its Object. – Joseph Addison
My Insides Still Turn Over When He Looks At Me That Certain Way. – Judy Blume
I'm Scared To See You With Someone Else.
Some People Are So Much Sunshine To The Square Inch. – Walt Whitman
I Think About You Constantly, Whether It's With My Mind Or My Heart. –Terri Guillemets
Let Us Be Grateful To People Who Make Us Happy, They Are The Charming Gardeners Who Make Our Souls Blossom. – Marcel Proust
I Get Nervous When I Know I'm Going To Get To See You.
When I Find Myself Thinking Of You, It Is All The Good Memories That We Had That Bring A Smile To My Face. – Catherine Pulsifer
Wondering If She Gets Butterflies When She's Around You.
Because Of Your Smile, You Make Life More Beautiful. – Thich Nhat Hanh
Having A Crush On Someone Is Not Something Intentional, But Hard To Stop.
I've fallen in love many times… but always with you.
Every time I see you I fall in love all over again.
The first thing I imagined when I saw the word 'love' is you.

For once in my life, I don't have to try to be happy. When I'm with you, it just happens.

"I could start a fire with what I feel for you." – Unknown
Some crushes just never went away. They built, instead, into something permanent, obsessive and all consuming.
Just thinking about you brings a smile to face, a twinkle to my eye, and a skipped beat to my heart.
I know I am but summer to your heart, and not the full four seasons of the year.
The mark of a true crush… is that you fall in love first and grope for reasons afterward.
My insides still turn over when he looks at me that certain way.
Your angelic face leaves me breathless.
Your voice is music to my ears, your smile is beauty to my eyes.