Love is a very special feeling and its very important to let you partner know how important is for you to fall in love with him or her.When you are in love you feel  at top of the world and you certainly want to express this beautiful feelings.Here we have compiled great collection of falling in love quotes and sayings.
Falling in Love Quotes for Him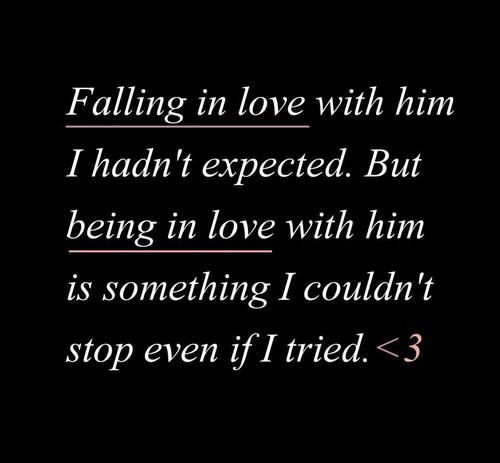 " You are the source of my joy, the center of my world and the whole of my heart. "
When I tell you I love you, I am not saying it out of habit, I am reminding you that you are my life. "
I don't need paradise because I found you. I don't need dreams because I already have you. "
I am in love with you and this reality is far better than my dreams.
All i know about love is just because of you. Please always be with me and do love me this way the whole life.
I love you so much that my heart slips a beat when you call my name.
Because of you, I laugh a little harder, cry a little less, and smile a lot more.
You make me smile so effortlessly.
I spend most nights at home falling in love with the idea of you.
Have you ever watched a leaf leave a tree? It falls upward first, and then it drifts toward the ground, just as I find myself drifting towards you.
"I fell in love with his unchanging soul."
I've fallen in love many times… but always with you.
Some people search their whole lives to find what I found in you.

Falling in Love Quotes for Her
Sometimes few magical words can be a better gift for her so browse through our magical collection of  falling in love quotes and messages for her.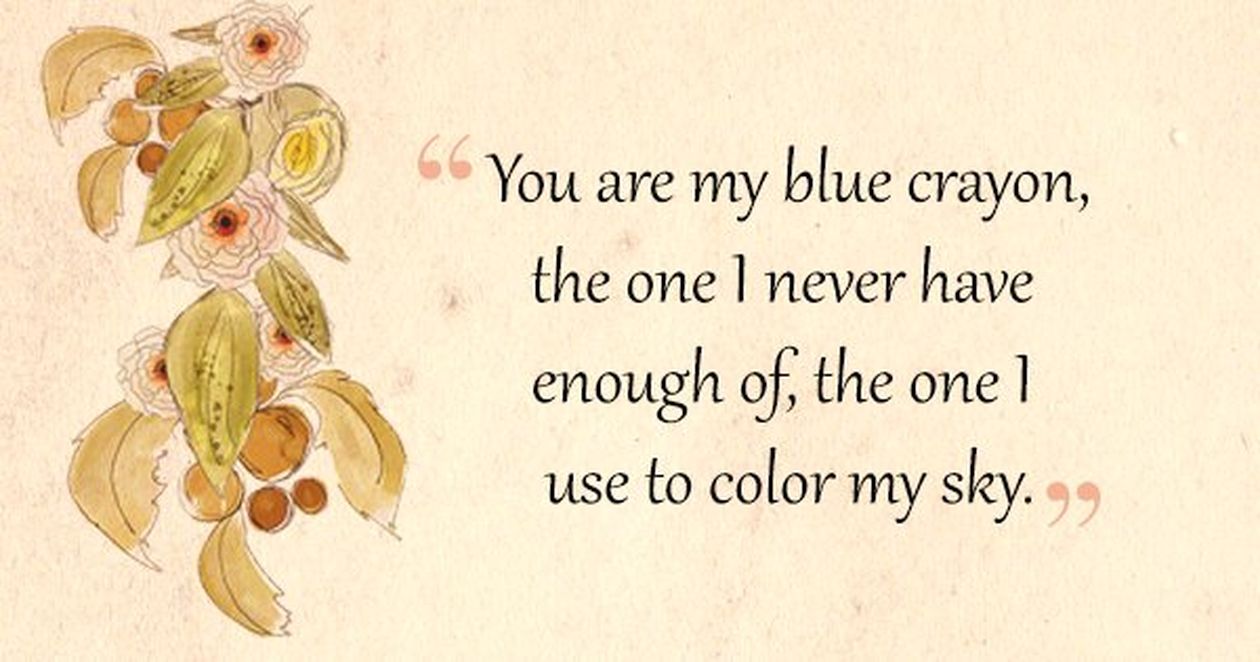 Every single second my love for you grows.
Meeting you was fate, becoming your friend was a choice but falling in love with you I had no control over.
If I had a flower for every time I thought of you, I could walk in my garden forever.
If her smile takes all your stress away. Believe me, she is the one.
When I listen to my heart, it whispers your name.
I don't want to be your favorite or your best. I want to be your only and forget the rest.
I knew I was in love when all those love songs started to make sense.
My top priorities for you are happiness, joy and peace. I will always strive to achieve them for you.
From the moment we met, my heart skipped a beat; I knew you were the one. I will always love you as long as I breathe.
Ever since I met you, no one else has been worth thinking about.
Quotes About Falling in Love Unexpectedly
No one ever fell in love gracefully.
You will always fall in love, and it will always be like having your throat cut, just that fast.
I think falling in love is always a surprise, right?
The greatest wonderful feeling is falling in love.
You can't blame gravity for falling in love.
The beauty of love is that, You can fall into it with the most unexpected person at the most unexpected time.
You're my serendipity. I wasn't looking for you. I wasn't expecting you. But I'm very lucky I met you.
Sometimes, love comes in the least expected place, in the least expected ways.
Cute Falling in Love Quotes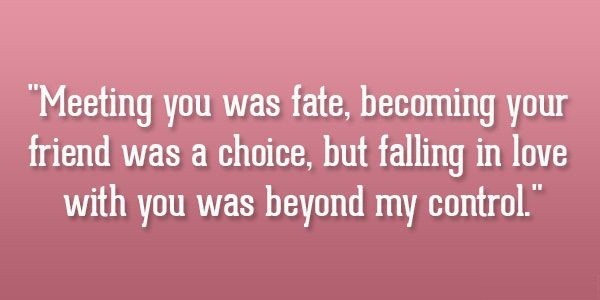 You're my spark in the dark.
You are my today and all of my tomorrows.
 If I know what love is, it is because of you.
You are my paradise and I would happily get stranded on you for a lifetime.
Thank you for always being my rainbow after the storm.
I love you every step of the way.
The best feeling is when you look at him…and he is already staring.
Falling in love is easy. Falling in love with the same person repeatedly is extraordinary.

I hope you're ready to catch me because I am falling for You.
Falling in Love with Someone You Never Met Quotes

Absence sharpens love, presence strengthens it.
Love is missing someone whenever you're apart, but somehow feeling warm inside because you're close in heart.
Love is like a beautiful flower which I may not touch, but whose fragrance makes the garden a place of delight just the same.
I'll hold you in my heart, till I can hold you in my arms.
I can bear the distance but cannot imagine a life without you. For you, I will go through the distance and the heartaches. You are my one and only.
The thought of being with you tomorrow gives me the strength to go on today.
When you are missing someone, time seems to move slower, and when I'm falling in love with someone, time seems to be moving faster.
The best and most beautiful things in the world cannot be seen or even touched. They must be felt with the heart.
Close together or far apart, you're forever in my heart.
Falling in Love with Your Best Friend Quotes 
When your best friend is your lover as well, that is the most comfortable relationship ever. You can open up to him and you can be honest with him easily, you understand each other, nothing else to ask for.
Relationships get more exciting when you are not just lovers but also best friends.
When I met my best friend, I felt like I already met my soul mate and the person I can spend the lifetime with.
Being my best friend, you are the shoulder I lean on, the person I can run to, the love of my life, and my everything.
The best lovers are always the best of friends.
To my best friend: I let you into my world, then you became it.
We are perfect for each other for we are friends and lovers at the same time. The strength of our relationship knows no boundaries.
What makes relationships stronger is when lovers start as friends and end up as partners for a lifetime.
The person who drops everything for you no matter what the circumstances are is your best friend who loves you more than you have ever known.
 I want also want you to be my best friend, not only a person I share a relationship with.
Relationships are always stronger when you are best friends first, and a couple second.
Falling in Love Again Quotes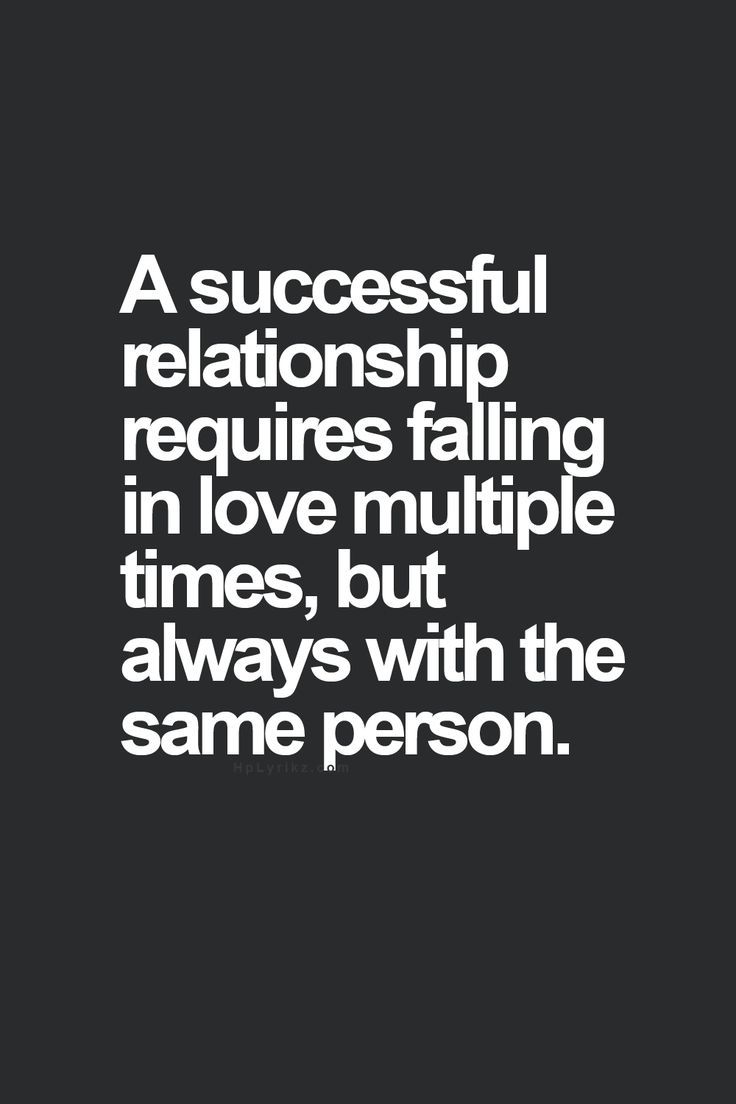 The greatest act of courage is not falling in love But, despite everything, falling in love again.
There's nothing more beautiful than a person whose heart has been broken but still believes in love.

Each day my love grows deeper, deeper than I never thought before.

We never get enough of falling in love and believing in love.

It's never too late for a new beginning in your life.
Keep going. Everything you need will come to you at the perfect time.
Falling in Love with Wrong Person Quotes
Sometimes the person you fall for isn't ready to catch you.
The saddest thing about falling in love is that sooner or later something will go wrong.
Sometimes we fall in love with the wrong person but that "wrong" person prepared us for the "right" one
Be careful while falling in love, see that the fall doesn't kill You.
If you can love the wrong person that much, imagine how much you can love the right one.
It's not the goodbye that hurts. It's the flashbacks and the memories that follow.
I'm not afraid to try again, I'm just afraid of getting hurt for the same reason.
Fear of Falling in Love Quotes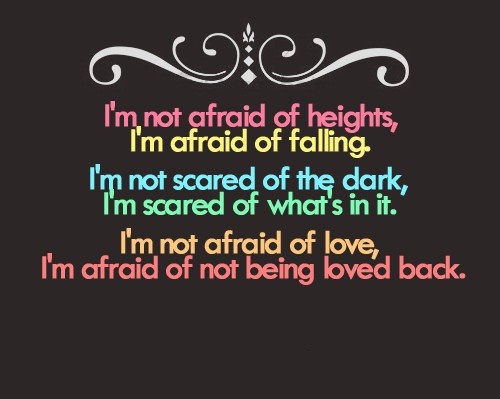 Surely the saddest thing in the world is falling out of love – if once one has ever fallen in
One of the most difficult task in life is removing someone from your heart.
Loving can cost a lot but not loving always costs more, and those who fear to love often find that want of love is an emptiness that robs the joy from life.
I am afraid to care too much, for fear that the other person does not care at all.
The hardest feeling is when you love someone, but at the same time, you scared to get rejected by him.