Good Morning Love Messages For Her: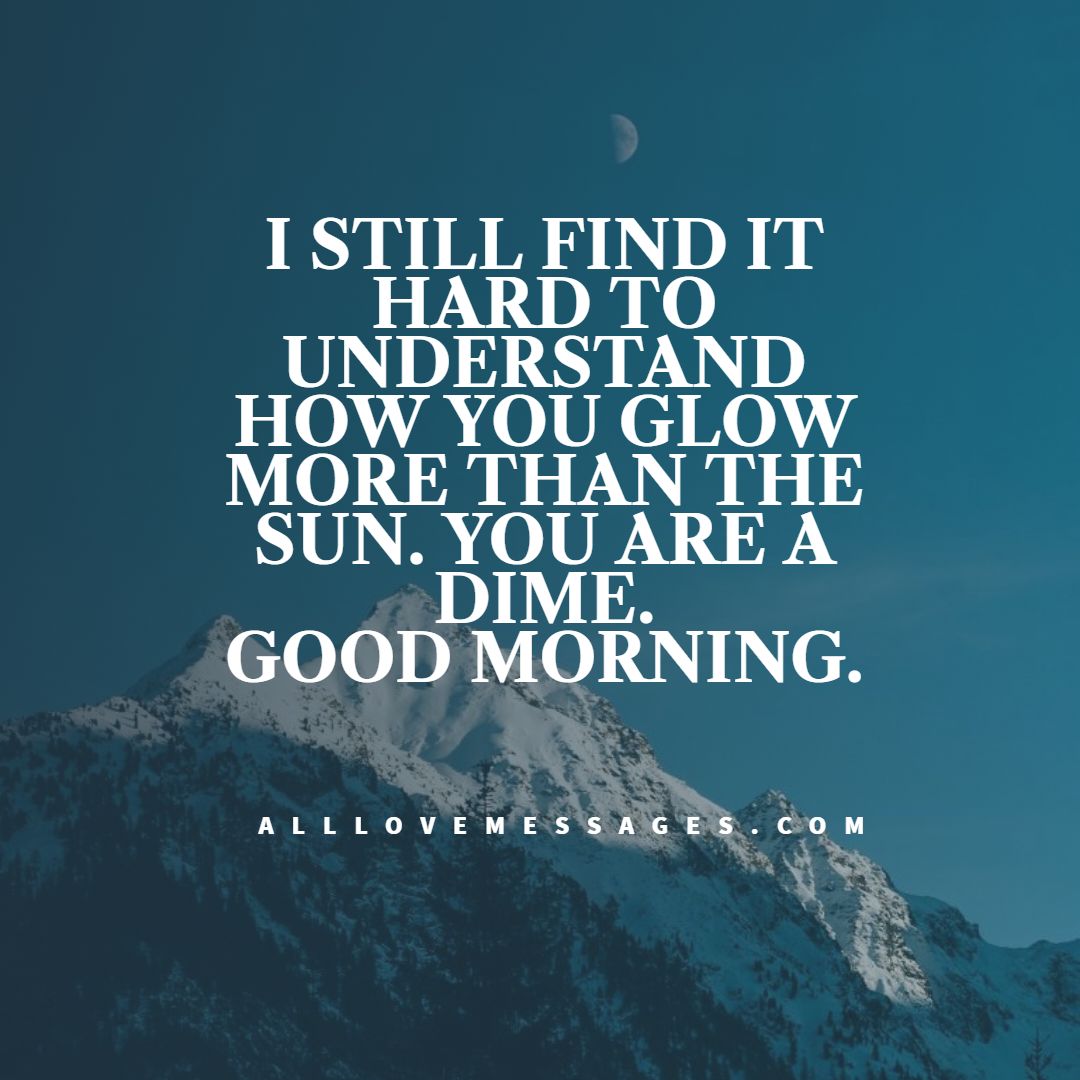 I hope your morning is as radiant as your amazing smile.
 May this new morning bring forth miracles and blessings. I cherish and adore you.
The long night is gone, and the morning has come. It is time to give me smile.
 Wake up with a smile darling, because you are strong, smart, energetic and blessed.
Something incredible is going to happen this week. I am sure of this because I'm waking up next to the most beautiful girl. Good morning.
 Good morning honey! I am blessed to spend the rest of my life with you. Thank you for everything.
I never believed in true love until I met you. Good morning, my love.
Starting any day with you brightens me up and makes everything feel better. Lovely morning, my queen.
Good morning sweetheart. Leaving bed has become the hardest thing for me, mainly because I get to leave the woman of my dreams.
 Each night, I hope to dream about us, but I wake up and realize what we have is real. Good morning.
Romantic Good Morning Love Messages For Him: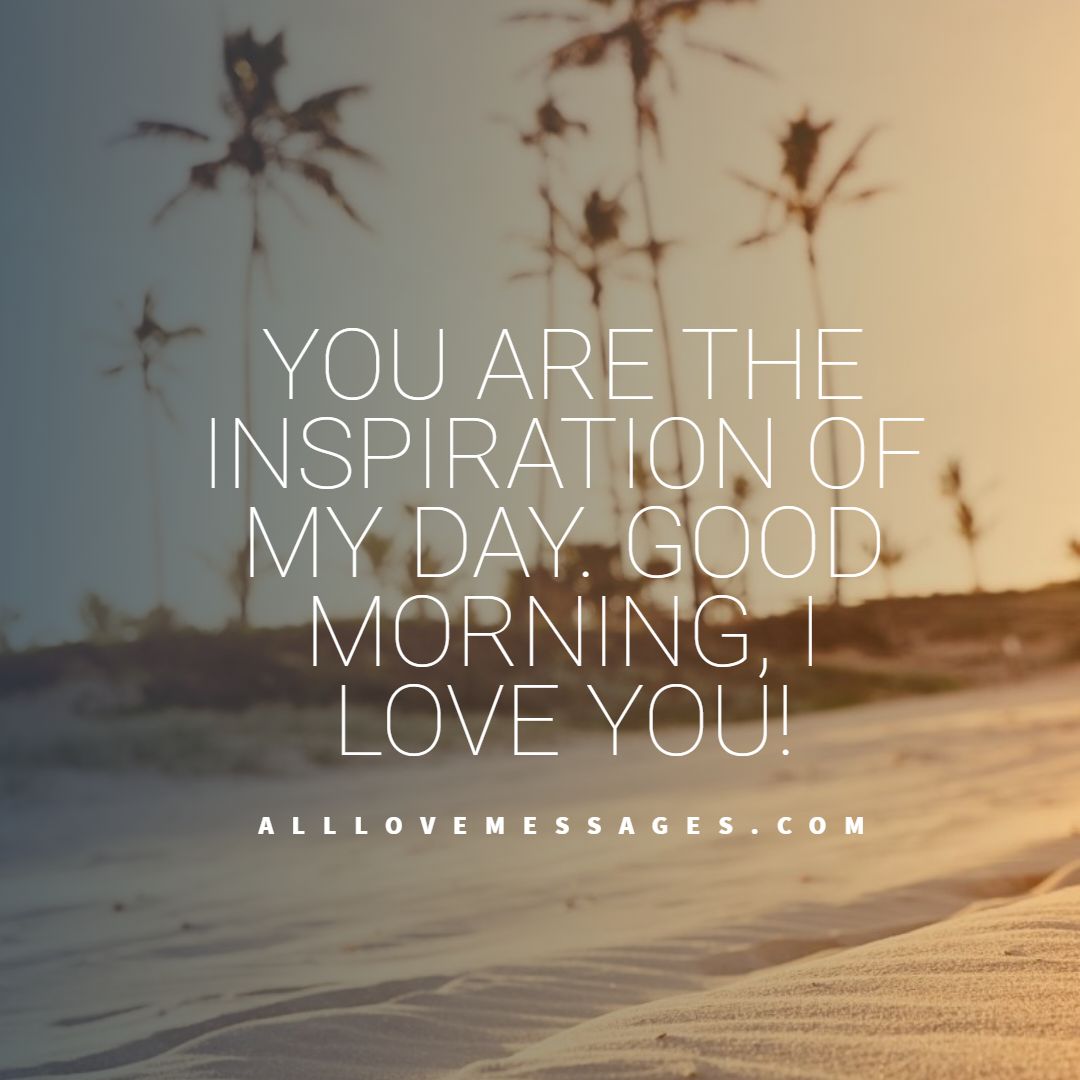 Good morning, handsome! I love you!
Hey, babe. Thinking about you.
 I wish I was in your arms right now.
Good morning my special guy. Have a great day!
You mean so much to me. I love you!
Rise and shine, my love. Open your arms and seize the day filled with new adventures and memories, and remember – I love you.
 Without you, there is no me.
You're the greatest guy I've ever met.
You really are a dream come true.
 I hope you had the sweetest dreams, my love.
Good Morning Love Texts For Wife: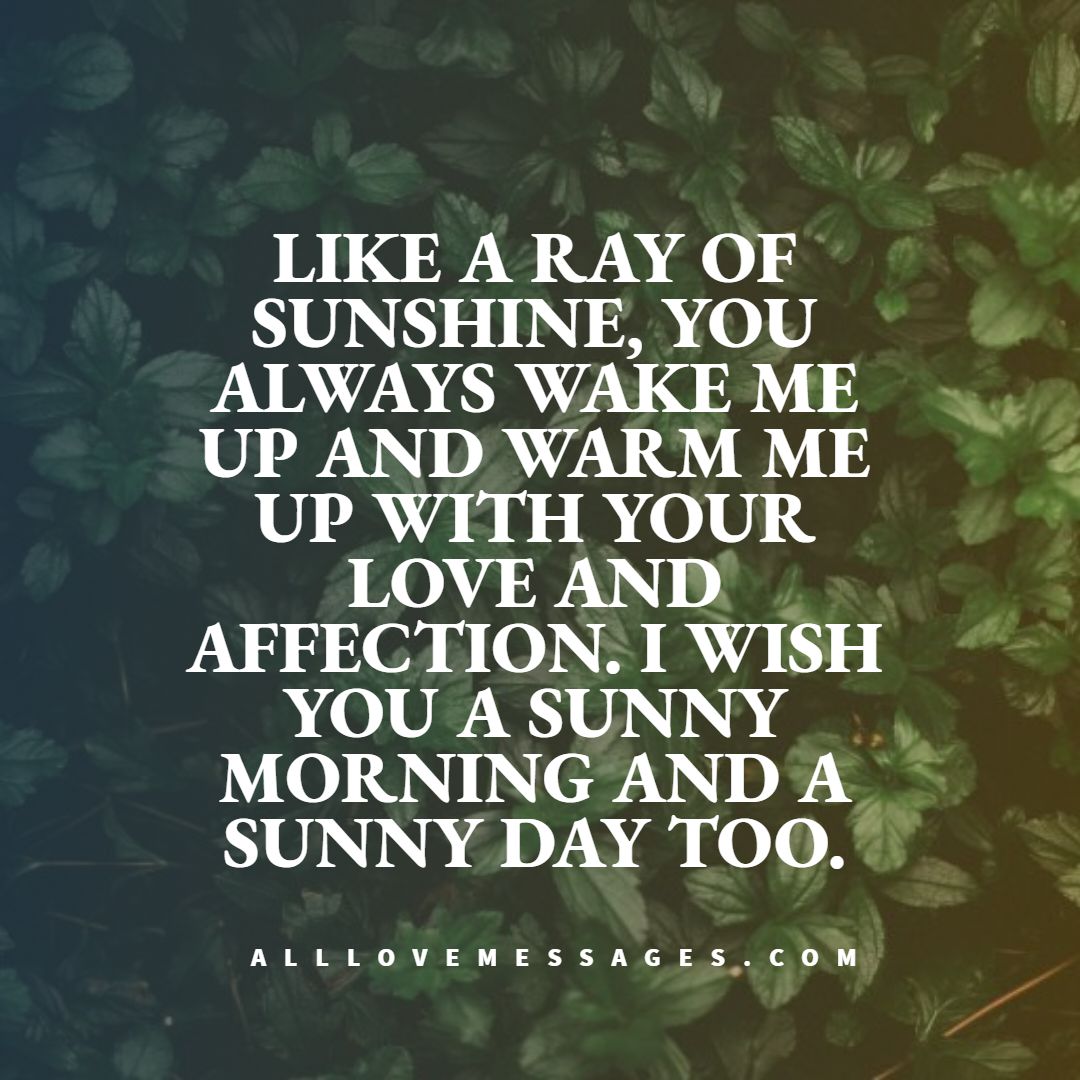 Every day, as I open my eyes, you are the first thing that comes to mind. And as soon as I twist and twirl to see you, my heart warms up. Good morning love.
Good morning dear wife, I hope your day would be as wonderful as you are.
Waking beside you every morning is one of my daily reminders that my life is beautiful. Good morning darling and have the best day, yet.
 A very good morning to the love of my life. With this simple message, I'd like to remind you how important you are and you can achieve all you want on this day. I love you.
 Words are not enough to describe the feeling of waking up next to the most beautiful woman in the world. Good morning dear wife.
Despite all our ups and downs, I'm grateful for yet another promising day with you. I think about you all the time. Good day ahead love.
Good morning sweetheart. Every day is another opportunity to show and express my gratitude for having you in my life. You are simply the best.
Every morning, I wake up to see the sun rays caressing your face, making you glow like an angelic figure. You get lovelier by the day. Good morning!
To my dear wife. You are the best thing in my morning. I appreciate the fact that you are the first thing I see in the morning and the last thing I see at night. I am grateful to you. Have a blast today.
Despite the rush mornings and the tight schedules, I'd like to take this moment to tell you that you've shown me what true love really is and I am thankful for getting more than I ever asked for. Good morning and a good week ahead.
Good Morning Love Of My Life Messages: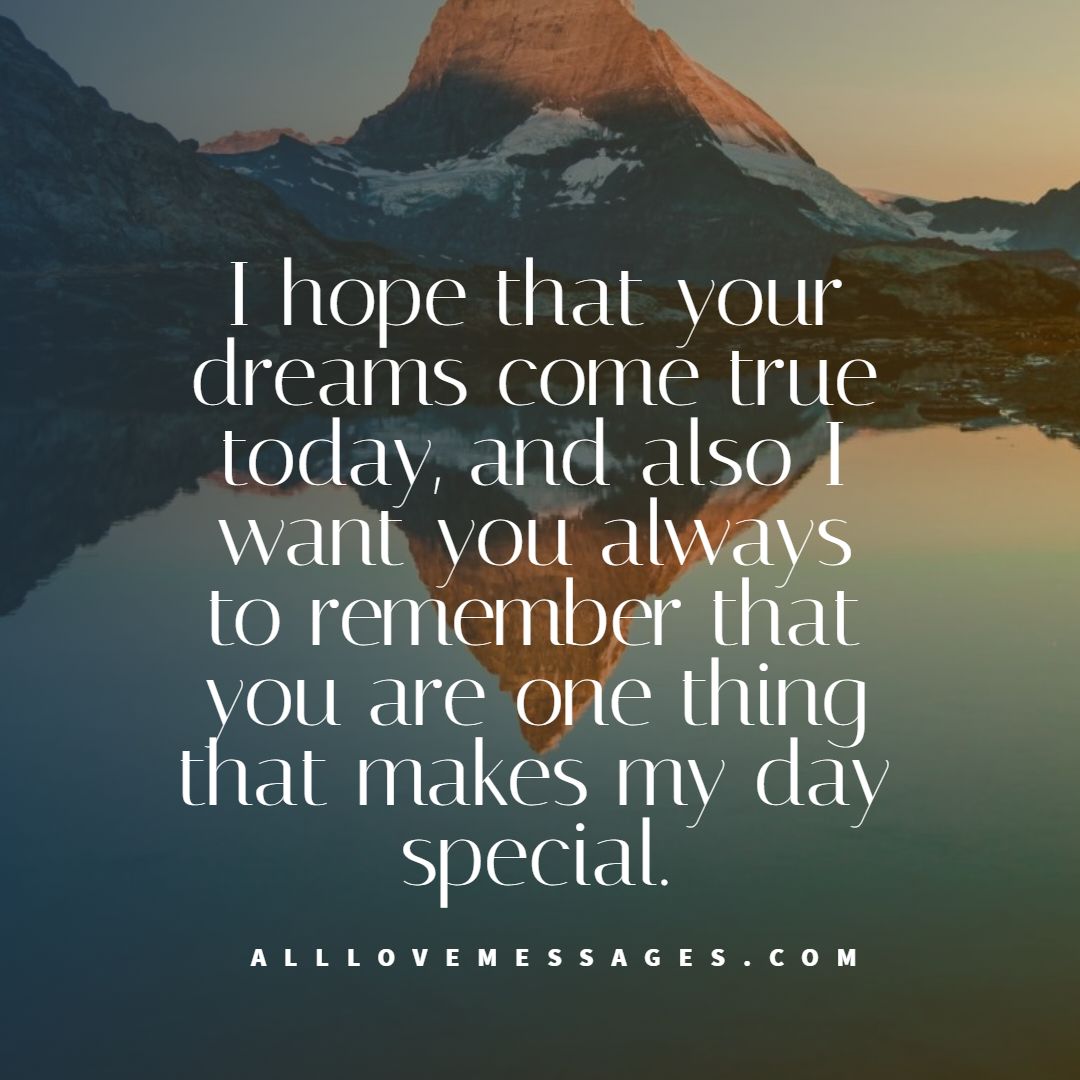 You are the love of my life, and nothing will take away the affection I have for you. Nothing can make me love you lesser than I used to because you are priceless.
 Good morning, my diamond. I pray that all you do today bring you closer to your goals in life. I love you, and I will always love you until the end of time. Having you in my life is a dream come true.
I hope you have a pleasant day as you step out of the door to chase your heart desires. I'll always pray that you achieve all you set your mind to achieve today.
You are a dream come alive, and I will still seize every second to let you know that I love you with every part of me.
Here is another beautiful day to arise and chase your dreams, and I say amen to all your secret prayers this morning.
A good morning wish is useless unless it comes from a pure heart. I wish you all the best things that this morning has to offer, and I pray that you achieve those things that bring you happiness.
When you stop dreaming, life loses its ingredients because dreams and aspirations drive every single day. Spending the rest of my life with you remains one thing that tops my priority list.
Loving you have shown me the brighter side of life and having you in my world is the only thing that will make my world complete.
Good morning to my sweetheart. The one whose love brings out the best in me. I am ready to love you for as long as I keep breathing.
I want to leave this world knowing that I gave you the unique love that you deserve. My heart desires to cherish you as nobody has ever done throughout your existence.
Long Good Morning Sweetheart Messages: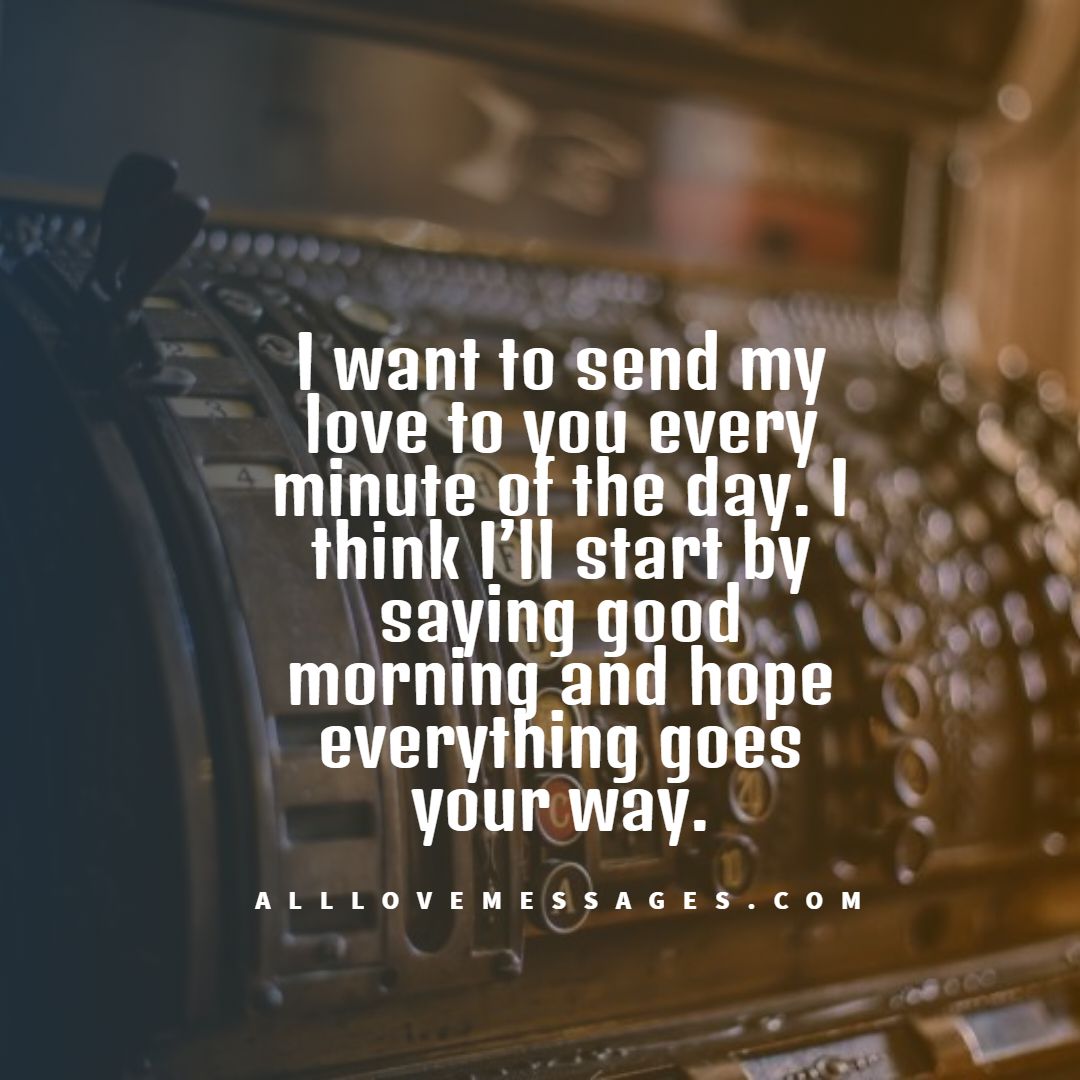 When I woke up this morning, the first thing I thought of was you. So I decided to wish you a good morning filled with lots of love.
I'm sending you a wish for a good morning. Along with it is a bundle of love that's meant for you alone.
What's so good about the morning? Everything since you came into my life. Love and wishes for a perfect morning.
Until I met you and fell in love, the morning was nothing special. Now it's one of my favorite times of the day. Sending you a good morning filled with love.
I hope your morning is a fabulous one. You deserve nothing but the best day possible, and that's why I'm sending this good morning message to you, my love.
My woman, my love, my most precious one, I wish you a good morning and a good rest of the day.