Quotes About Being Worthy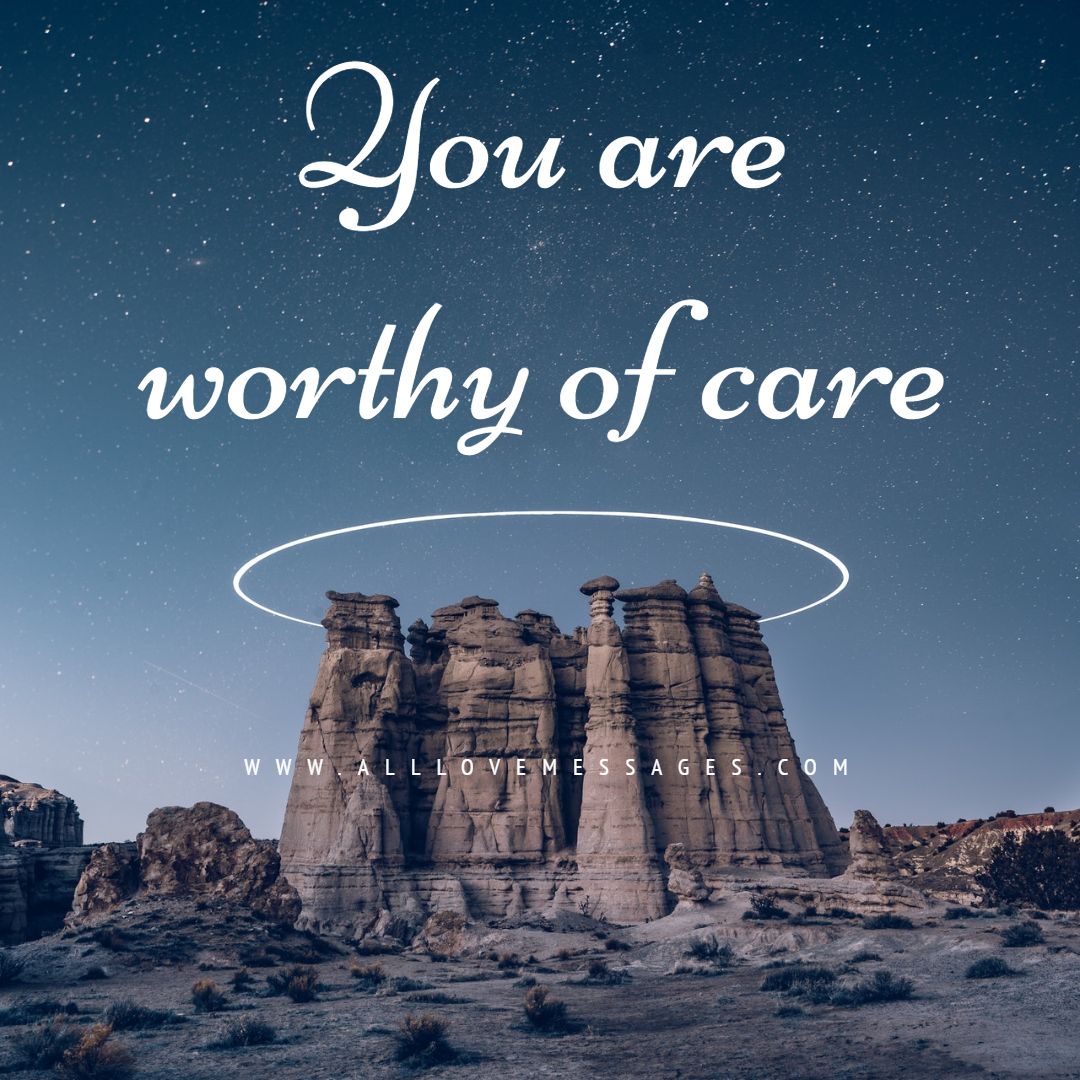 You are imperfect, you are wired for struggle, but you are worthy of love and belonging.
You are worthy of love and respect. You are beautiful, gifted, and intelligent. Don't let the storm make you forget it.
Yes, I am imperfect and vulnerable and sometimes afraid, but that doesn't change the truth that I am also brave and worthy of love and belonging.
YOU are valuable and rare and worthy of love.
I love you not as something private and personal, which is my own, but as something universal and worthy of love which I have found.
If we want to fully experience love and belonging, we must believe that we are worthy of love and belonging.
We are all born worthy. Worthy of love, worthy of success.
In this life and the next, you're my only hope at happiness.
It cannot, indeed, be denied, that a good man is more worthy of love than a bad one.
If you're in a relationship with someone who does not honor or respect you, I want you to know you are worthy of love. Please reach out for help.
You can search the entire universe and not find a single being more worthy of love than you.
Everybody feels like a freak in some way at some time in their life. Or feels on the outside. And everybody is worthy of love.
Here's what is truly at the heart of wholeheartedness: Worthy now, not if, not when, we're worthy of love and belonging now. Right this minute. As is.
The only love worthy of a name is unconditional.
The only way to make a man worthy of love is by loving him.
I Am Worthy Quotes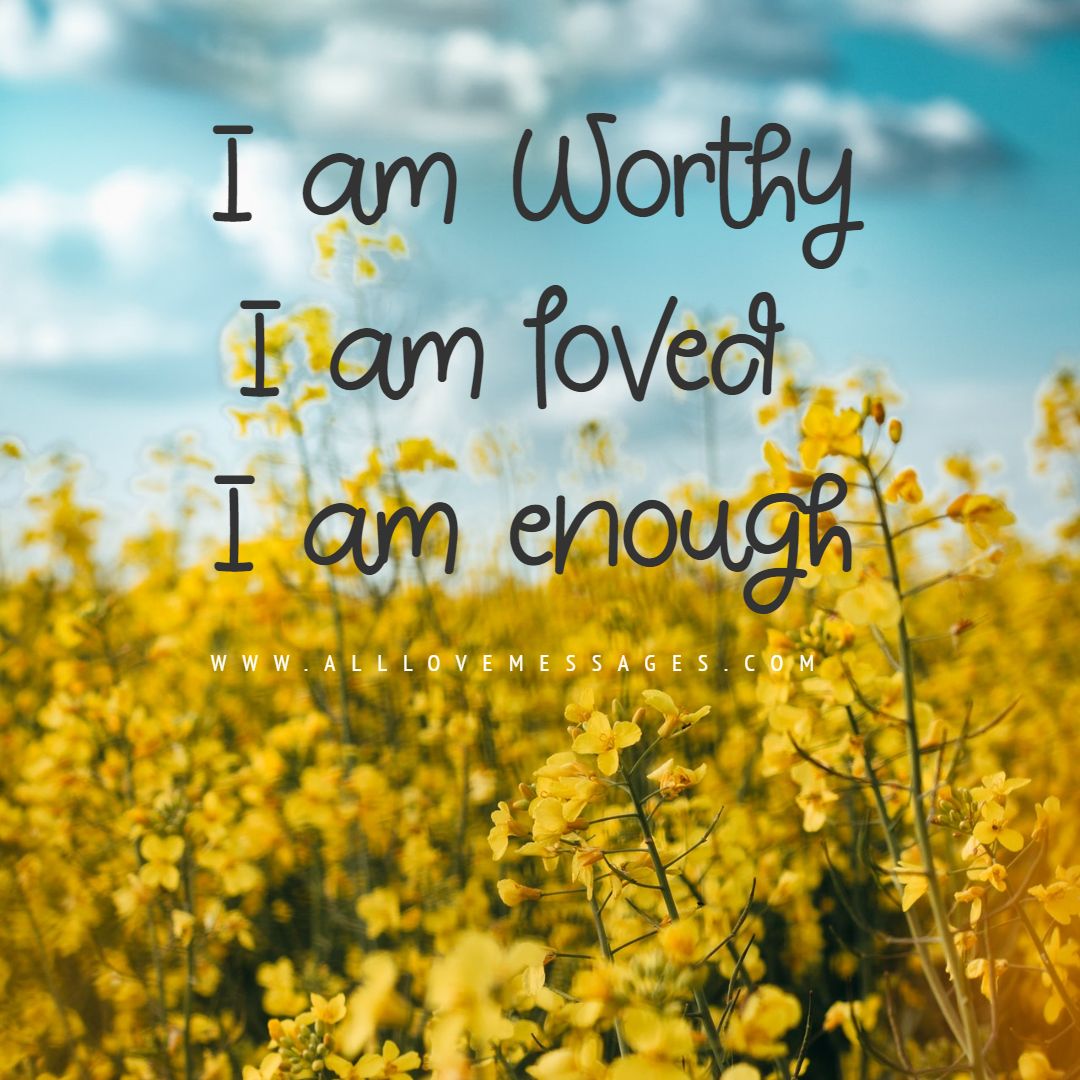 "Know your worth. Then add tax."
"Things of value require sacrifice. If people are too hurt, too busy or too damn stupid to see that you're a blessing they've been asking for, just fall back. Know your worth."
"I don't know why we all hang on to something we're better off letting go of." Meredith Grey

 "When you start seeing your worth, you'll find it harder to stay around people who don't."
"Maturity is learning to walk away from people and situations that threaten your peace of mind, self-respect, values, morals or self-worth."
"Never forget how rare you are."
"When you know your worth, no one can make you feel worthless."
 "Make sure you don't start seeing yourself through the eyes of those who don't value you."
"Don't go back to less, just because you're too impatient to wait for more."
 "Know your worth. Never settle for less than you deserve."
"Spend time with those who value you."
 "When you know your worth, you move different." 
"You need to love yourself. Love yourself so much to the point that your energy and aura rejects anyone who doesn't know your worth." Billy Chapata
"She understood her worth which made her powerful. The world gravely needed a hero so she became one. No superpowers really, just a strong woman who took no nonsense from anyone." Rabdall Core
 "Sometimes walking away has nothing to do with weakness and everything to do with strength. We walk away not because we want others to realize our worth and value, but because we finally realize our own."
 "I know what I bring to the table, so trust me when I say I'm not afraid to eat alone."
"Become more aware of what's really worth your energy."
"You gotta overvalue yourself some time."
 "He who understands you is greater kin to you than your own brother. For even your own kindred neither understand you nor know your true worth." Khalil Gibran
 "You find your worth within yourself."
 "You deserve exactly what you settle for."
 "People always think that the most painful thing in life is losing the one you value. The truth is, the most painful thing is losing yourself in the process of valuing someone too much and forgetting that you are special too."
Quotes About Feeling Worthy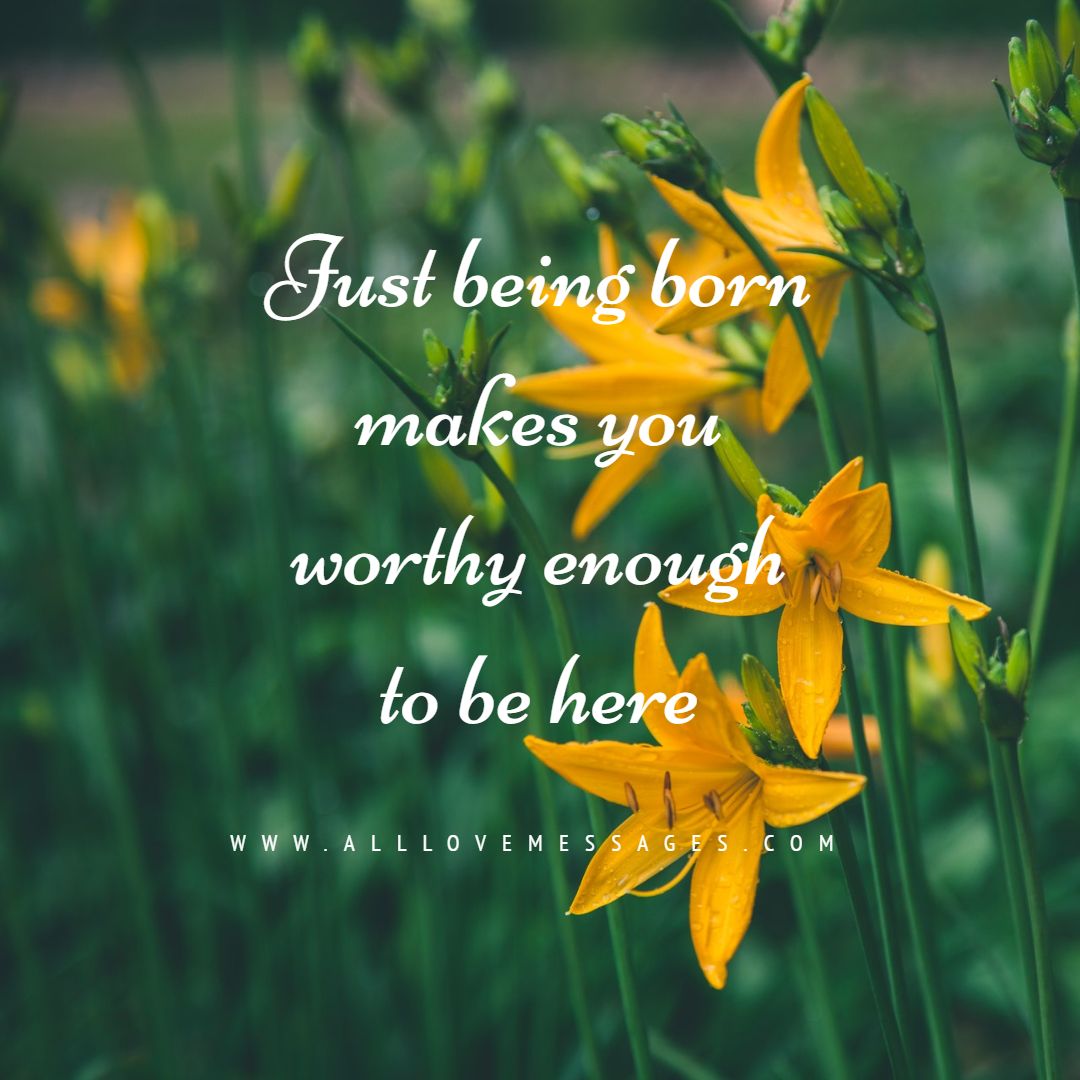 "You yourself, as much as anybody in the entire universe, deserve your love and affection." — Buddha
"Self-care is never a selfish act–it is simply good stewardship of the only gift I have, the gift I was put on earth to offer to others." — Parker Palmer
"Why should we worry about what others think of us, do we have more confidence in their opinions than we do our own?" — Brigham Young
"Love yourself first and everything else falls into line. You really have to love yourself to get anything done in this world." — Lucille Ball
"Remember always that you not only have the right to be an individual, you have an obligation to be one." — Eleanor Roosevelt
"If you could only sense how important you are to the lives of those you meet; how important you can be to people you may never even dream of. There is something of yourself that you leave at every meeting with another person." — Fred Rogers (Mr. Rogers)
"What lies behind us and what lies before us are tiny matters compared to what lies within us." — Ralph Waldo Emerson
"A healthy self-love means we have no compulsion to justify to ourselves or others why we take vacations, why we sleep late, why we buy new shoes, why we spoil ourselves from time to time. We feel comfortable doing things which add quality and beauty to life." — Andrew Matthews
"People may flatter themselves just as much by thinking that their faults are always present to other people's minds, as if they believe that the world is always contemplating their individual charms and virtues." — Elizabeth Gaskell
"Until you value yourself, you won't value your time. Until you value your time, you will not do anything with it." — M. Scott Peck
"Never be bullied into silence. Never allow yourself to be made a victim. Accept no one's definition of your life; define yourself." — Harvey Fierstein
"Too many people overvalue what they are not and undervalue what they are." — Malcolm S. Forbes
"Remember, you have been criticizing yourself for years, and it hasn't worked. Try approving of yourself and see what happens." — Louise L. Hay
"Act as if what you do makes a difference. It does." — William James
"You're always with yourself, so you might as well enjoy the company." — Diane Von Furstenberg
"The better you feel about yourself, the less you feel the need to show off." — Robert Hand
"One's dignity may be assaulted, vandalized and cruelly mocked, but it can never be taken away unless it is surrendered." — Michael J. Fox
Quotes About Accepting Others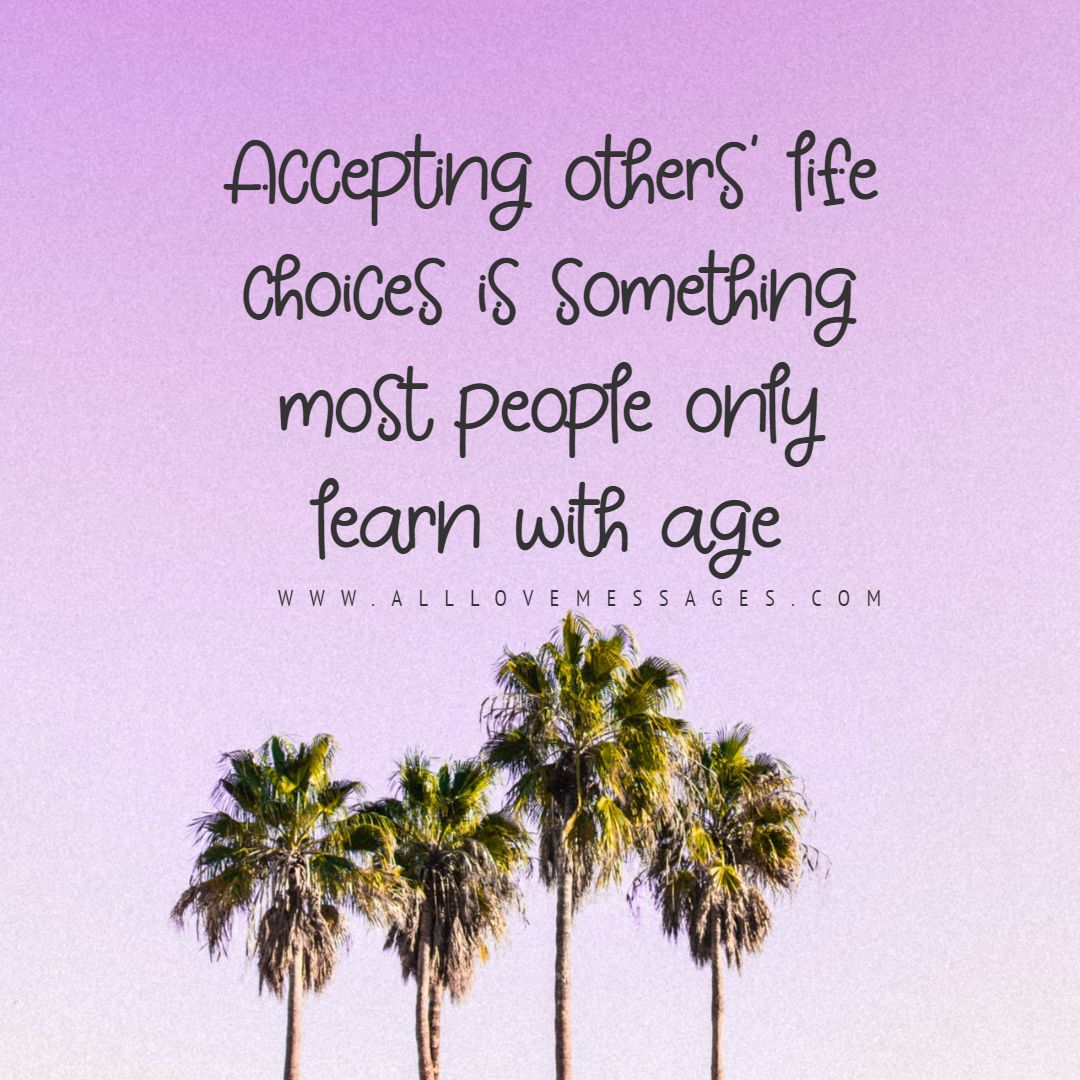 The greatest gift that you can give to others is the gift of unconditional love and acceptance.
Unconditional acceptance of others is the key to happy relationships.
The art of acceptance is the art of making someone who has just done you a small favor wish that he might have done you a greater one.
Friends can help each other. A true friend is someone who lets you have total freedom to be yourself – and especially to feel. Or, not feel. Whatever you happen to be feeling at the moment is fine with them. That's what real love amounts to – letting a person be what he really is.
The opinion which other people have of you is their problem, not yours.
I prefer to be true to myself, even at the hazard of incurring the ridicule of others, rather than to be false, and to incur my own abhorrence.
To be beautiful means to be yourself. You don't need to be accepted by others. You need to accept yourself.
Gratitude unlocks the fullness of life.
You express your own divinity by being alive and by loving yourself and others.
I release all criticism. I only give out that which I wish to receive in return. My love and acceptance of others is mirrored to me in every moment.