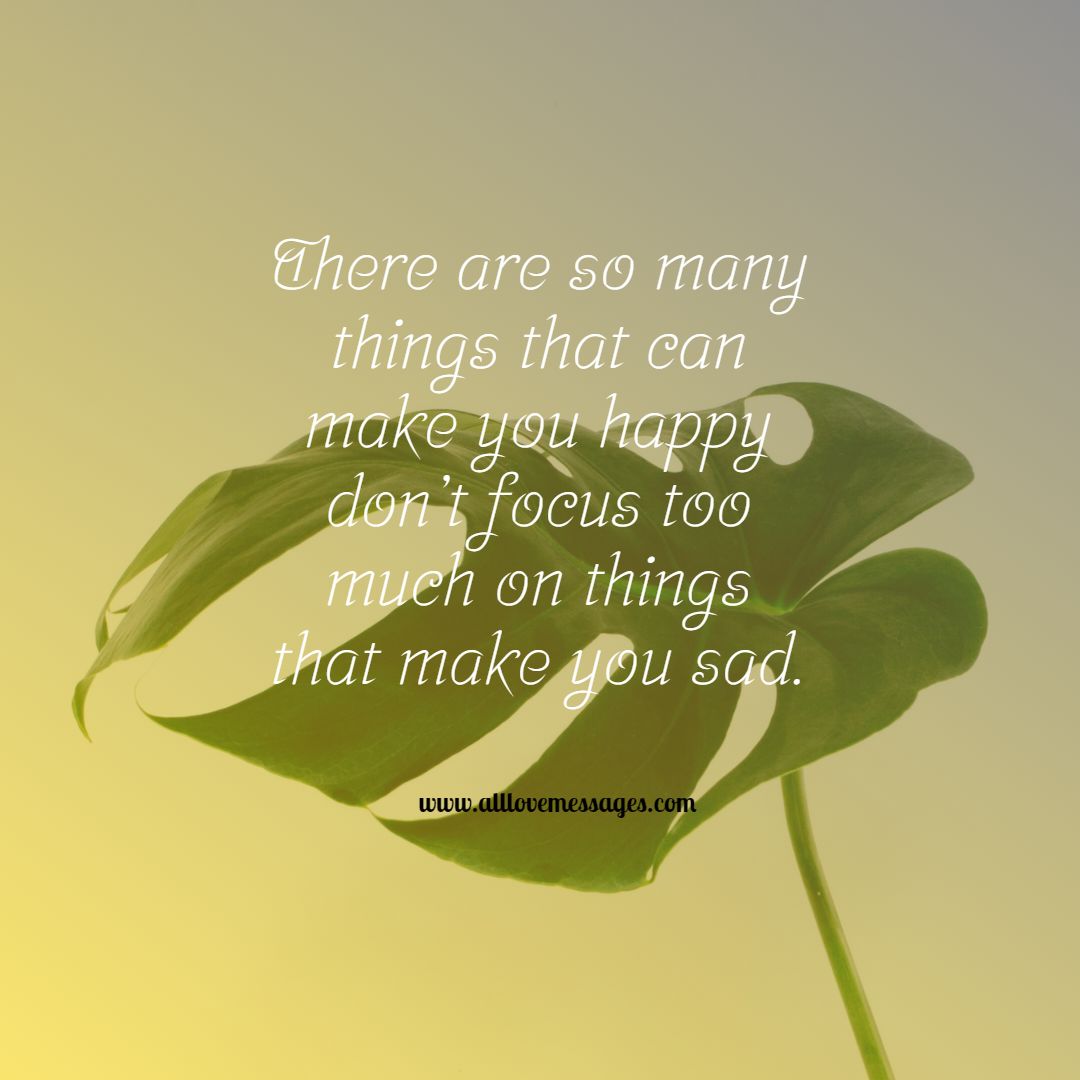 Don't be sad! Because God sends hope in the most desperate moments. Don't forget, the heaviest rain comes out of the darkest clouds.-Rumi
Don't cry because it's over. Smile because it happened.
Don't be sad; tomorrow and forever, we'll be together.
Don't be sad and don't give up on your dreams. Dreams will come true one day. There's no person as beautiful as a person who dreams.
When you're sad, you're not sad. You are merely oblivious to the good things in your life. There is always a crack of light in the darkness. Find it.
Don't be sad, don't be angry, if life deceives you! Submit to your grief – your time for joy will come, believe me.
Don't be sad cause your sun is down, the night doesn't need your sorrow. Don't be sad cause the light is gone, just keep your mind on tomorrow.
I think the saddest people always try their hardest to make people happy because they know what it's like to feel absolutely worthless and they don't want anyone else to feel like that.
Don't be sad by what you see It's true life has it's miseries But one thing's always worked for me Worry ends when faith begins.
When you do something noble and beautiful and nobody noticed, do not be sad. For the sun every morning is a beautiful spectacle and yet most of the audience still sleeps.
Don't be sad about the goodbyes! Because in many farewells, better unions are hidden!
You may believe whatever you want; but the most important thing is to update you belief with the truth, with the science! Your dearest belief might be the biggest buncombe ever! Don't be sad! Continue your road with the new truth! Everything changes!
Have you lost your way? Don't be sad; be happy, because you will see new places, places that you have never been to! It is magical to lose the way!
Don't be sad that roses have thorns. Be glad that thorns have Roses. Today's the day I worried about yesterday and it didn't happen.
Don't be sad. Even if the world won't forgive you, I'll forgive you. Don't be sad. Even if you don't forgive the world, I'll forgive you. So please tell me. How do I make you forgive me?
Don't wait until it's too late to say I love you.
If speed one day kills me, don't be sad because I was smiling.
I've accomplished everything I wanted out of life, like way beyond my wildest dreams. Anything from here on is just icing. Seriously, if you find out that I died tomorrow, I'm fine. Don't be sad for me, because I'm not sad. I died with a smile on my face.
The end for which we are created invites us to walk a road that is surely sown with a lot of thorns, but it is not sad; through even the sorrow, it is illuminated by joy.
there's a bluebird in my heart that wants to get out but I'm too clever, I only let him out at night sometimes when everybody's asleep. I say, I know that you're there, so don't be sad. then I put him back, but he's singing a little in there, I haven't quite let him die and we sleep together like that with our secret pact and it's nice enough to make a man weep, but I don't weep, do you?
I want you, I need you, but there ain't no way I'm EVER gonna love you. Now don't be sad, cause two out of three ain't bad.
When loved ones die, people always say, "Don't be sad. I'm sure they would have wanted you to be happy." I'm sure that's true. But let's be realistic here, people also want to be missed. It is every person's nightmare to leave the world behind as if they had never been there at all.
There is no need to upset about the fact that our ancestors were monkeys, because they are capable chaps! Don't be sad about the truth, just understand the truth!
It is one of those weird social things. Even as parents we say, oh, don't be sad. You know, come here, we'll distract you with some ice cream or something. And I don't know if that's always the best thing. But it's certainly – you understand why people do it.
If you are truly merciful, then when what is yours is unjustly taken, don't be sad inside, and do not tell of our loss to your neighbor. Let a better loss, inflicted by those who insult you, be absorbed by your mercy.
You'll always love him" he said, as if he'd read her mind. "That doesn't die just because he did, or because you now love me. Your love for him is part of who you are. It's a beautiful part, Denise. Don't be sad of it, and I will never be jealous of it". Denise's eyes overflowed again. Spade was right.
Don't Let little stupid things break your happiness.
Don't be afraid of losing people. Be afraid of losing yourself by.
Hey! Don't be sad Smile suits you Do wear it often
Anything you lose comes round in another form." ― Jalaluddin Rumi.
Breathe. It's only a bad day, not a bad life.