Proud Wife To Her Husband Quotes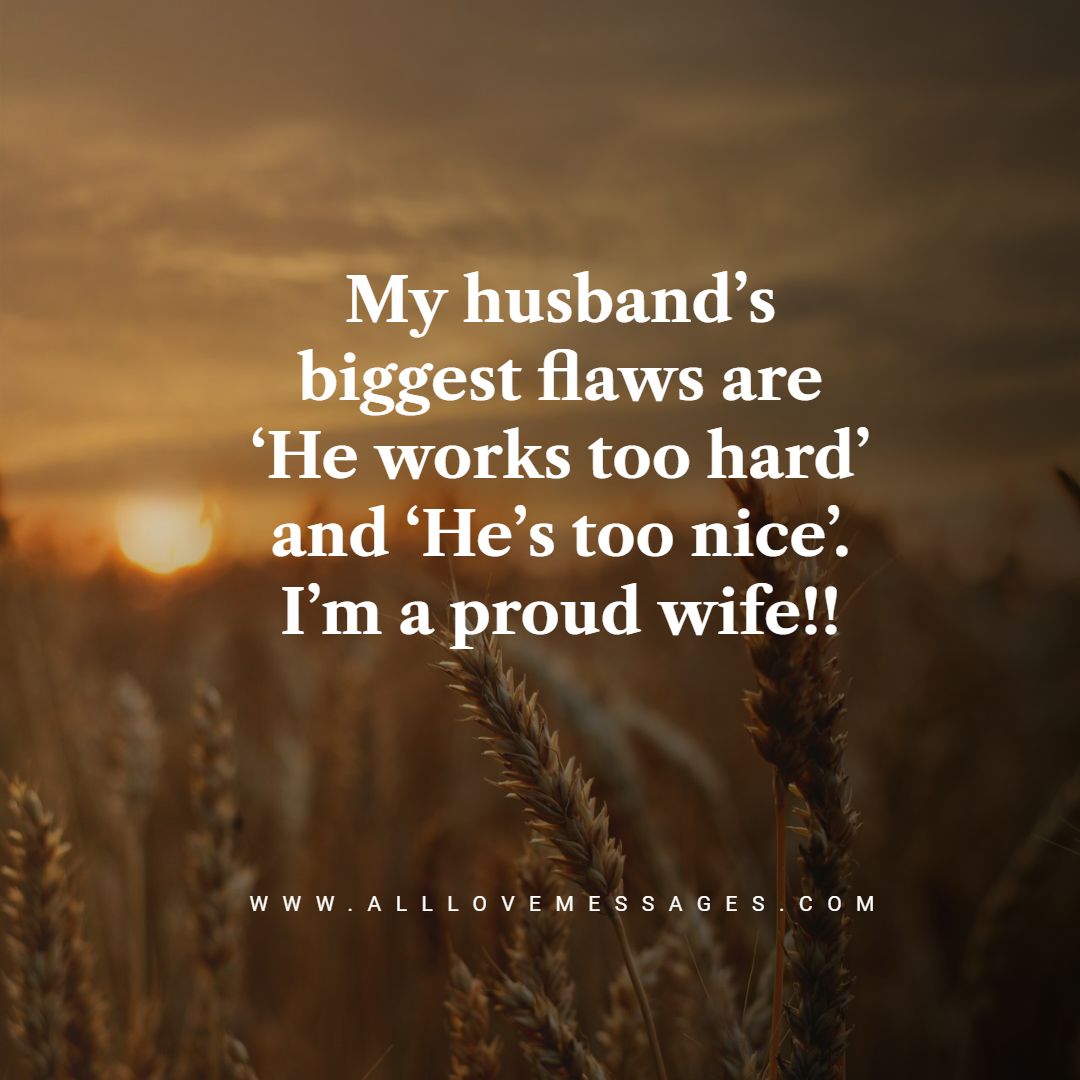 My husband is one of my greatest blessings from god. His love is a gift that I open every day.
If my life was a ship, you would be the anchor that holds me in place and the sails which take me on a beautiful journey.
I love my husband. I believe in him, and I am proud of his accomplishments.
I am proud of my Husband. B'coz of him, I laugh a little harder, cry a little less and smile a lot more.
I am so proud of my husband. He is truly one of a kind. A real man. I'm blessed to have him.
I didn't know that it was possible to fall in love over and over, deeper and deeper, with the same person every day. I am proud of you, honey.
Do you know what the best thing about this world is? It is being your wife!
I am a proud wife of an imperfect perfect husband. He is the only one in this world who can tolerate my madness.
If you live to be 100, I hope I live to be 100 minus 1 day, so I never have to live without you.
Life without you would be like a broken pencil..pointless.
I'm a proud wife of a wonderful husband.
I cannot possibly think of loving anyone else the way I love you. You are my life, I cannot imagine my life without you.
Every time I look at the keyboard, I see that U and I are always together.
Without you, I'm nothing. With you, I'm something. Together, we're everything.
We may fight like cats and dogs, but we never really stay angry for too long. You such a precious find my husband.
There is a guy who stole my heart and he calls me his wife with love.
Every day is a grand day for me most particularly when I am with you.
Your sweet voice can take away all my sadness. Your smile gives me hope. It's a magical feeling knowing that we are meant to be. It doesn't matter what took you so long to arrive in my life. I am so much blessed with joy you brought to my life.
By the way, I'm wearing the smile you gave me. Thank you for everything.
Yes, I was in love with my husband at first sight and still I am. We have the most solid relationship.
My heart is perfect because..you are inside.
Nothing says "home" like the arms of my husband.
My husband may not be perfect but he is perfect for me.
I am absolutely positive that I have the best husband ever.
I believe in you, so very PROUD of you. Don't ever give up, you can do it.
My Husband is..my best friend, my greatest support, my biggest comfort, my strongest motivation, my truest smile, my deepest love, my favorite and my forever.
Any home can be a castle when the king and queen are in love.
God sent him to me knowing that he would love me beyond reason.
You make me feel so proud of being in love with you.
You are truly a blessing from God. Thank you for being my partner, husband, lover and friend.
My only nightmare is waking up in a world where you're not mine.
The few hours I spend with you are worth the thousand hours I spend without you.
If someone asked me to describe you in just 2 words, I'd say..Simply Amazing. I am proud of you.