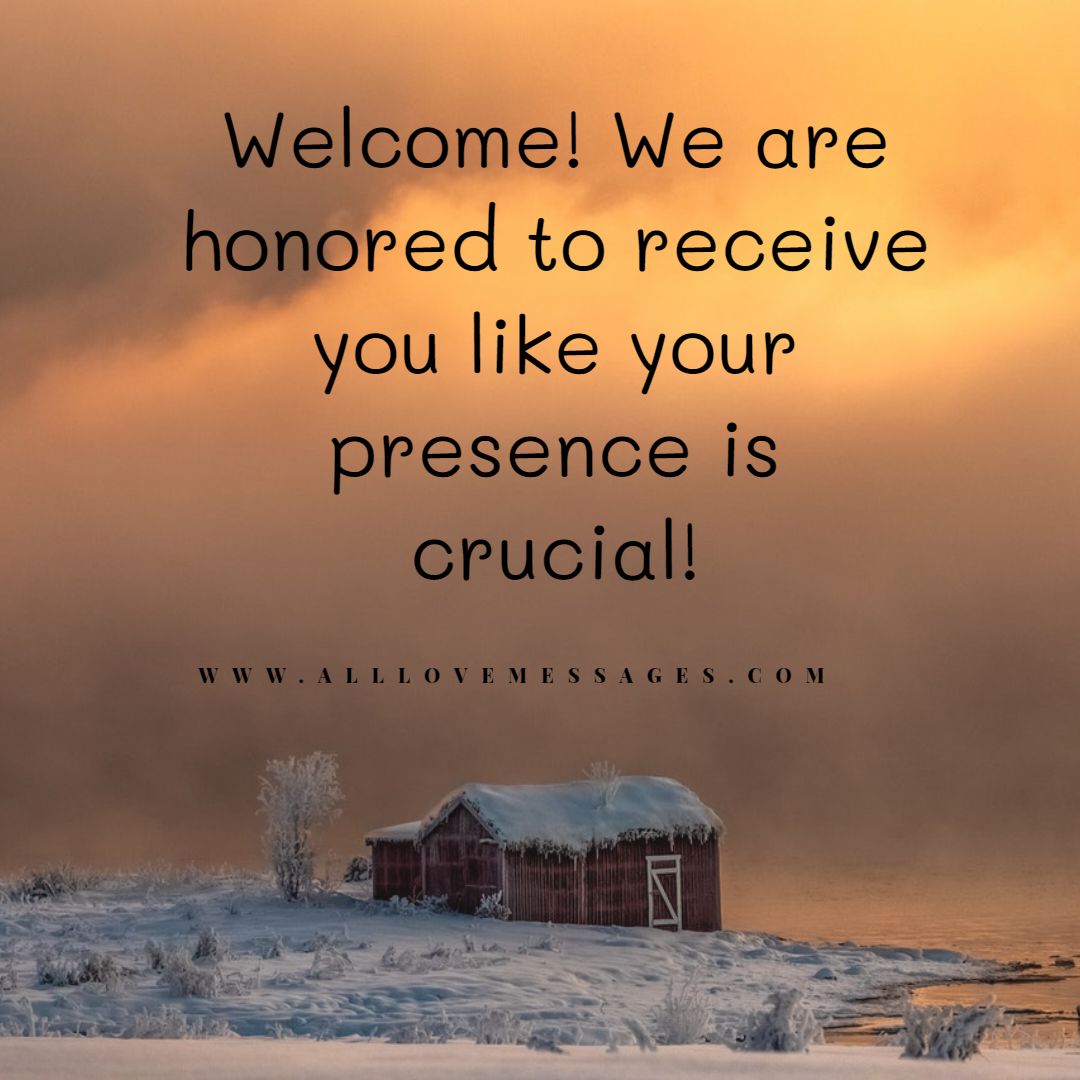 Life seldom gives us a chance to know someone who can influence us so deeply. I'm lucky to have the opportunity to meet you! Welcome into my life!

We have waited so long to have you among us. At last, the time has come. We are most delightfully welcoming you to join us today!

I'm so glad to welcome you to my [new] house. Your presence in our [new] home is nothing less than a blessing to us!

Welcome Boss! I hope you are going to have a great time with us. So happy to have you among us.

Welcome! We are honored to receive you like your presence is crucial!

It is our great pleasure to have you on board! A hearty welcome to you!

We value our customers more than anything, and your satisfaction is what we aim for! Welcome to you! Thank you for visiting us!

Congratulation for being a part of our group. We would like to welcome you to our team and extremely happy to have you as one of us.

Sometimes all you need is an awesome guest to make you feel complete in the family. I am really glad to see you. Welcome to my sweet home!

Only a few people can touch our hearts so deeply yet so gently. You are among the few. I am so honored to be able to welcome you among us!

Welcome on board! Our pleasant greetings go out to you on your arrival!

We have learned so many things from you. It'll be great to have you with us, sharing the same journey, on the same road. Welcome!

The times we spend with you is always so full of joy and happiness. Knowing that you'll be with us, brings a smile to our face. Welcome to our house!

Spending time with you is more enjoyable than watching a football match live in the stadium. We gladly welcome you to be with us in our house.

Dear friend, welcome! Nothing was the same without you during your absence!

Friend, I welcome you with abundant joy in my heart! You are so special to me!

Nothing beats the warmth of a friend's presence in your life. Welcome, buddy!

Welcome! I cherish every moment we spend together, so let's create more memories!

Welcome! We are over the moon to share quality time with you and make memories!

We are very happy to see you. We all eagerly wait for this time of the year to have you among us. Welcome to our happy family!

A cordial welcome to you! It is an incredible pleasure to have a bright, witty, and sincere person like you to join our office! We hope you'd like it here!

Welcome on board! You seem to be the perfect fit for our team, so we heartily appreciate your recruitment! We cannot wait to work with you!

The entire team of [name of the company] is honored to welcome you on board. Enjoy the facilities here and make sure your talents are fully utilized!

Having you in the company means a lot to us. We hope you'll make the best use of your skills and knowledge and make sure something great is achieved!

Our cordial welcome goes to you! Thank you for trusting us and appreciating our venture!

We are nothing without customers! Welcome to our [new] shop where you'll find everything you want! Your presence is our motivation to do better!

Our heartiest welcome goes to you. Thanks for being a proud customer of our unique and ever-expanding line of products! We're honored to have you with us always!

We know the value of each penny you spend on buying our products. We appreciate you for trusting us! Satisfying your needs is our mission. Welcome to our [new] shop!

Welcome and greetings! We promise to not disappoint you with our finely crafted products!

Warm welcome to our little store! Your presence is an absolute delight for us, and we are happy as ever to serve you! Hope you like it here!

Your trust is our asset. We express our deepest gratitude for supporting us and welcome you to be a part of our global community.

We get better with every customer we deal with. We grow by satisfying your needs. We welcome you to be a part of our proud family where every customer is a king!

Let us welcome you with the warmth of our hearts as we introduce our new product to the market. It's your time to be a proud owner of it!

Welcome to our group! We hope for a long and successful journey with you.

Welcome mate! We are sure you will be a valuable asset to our team—best of luck.