Valentine's Day is a celebration of love in all its forms, and the bond between siblings is one of the most unique and special relationships that deserves to be celebrated. Brothers, in particular, play many roles in our lives – they are our protectors, confidants, lifelong friends, and sometimes, our biggest challengers. This Valentine's Day, take a moment to express your love and appreciation for your brother with a heartfelt message.
Whether he's your big brother who has always looked out for you, your little brother who you've watched grow up, or your twin who's been by your side every step of the way, a thoughtful message can make his day all the more special. To help you find the right words, we've compiled a list of 55 Valentine's Day messages for brothers. These quotes and messages are designed to convey the depth of your sibling love, the strength of your bond, and your wishes for his happiness. Read on to find the perfect message that will touch his heart this Valentine's Day.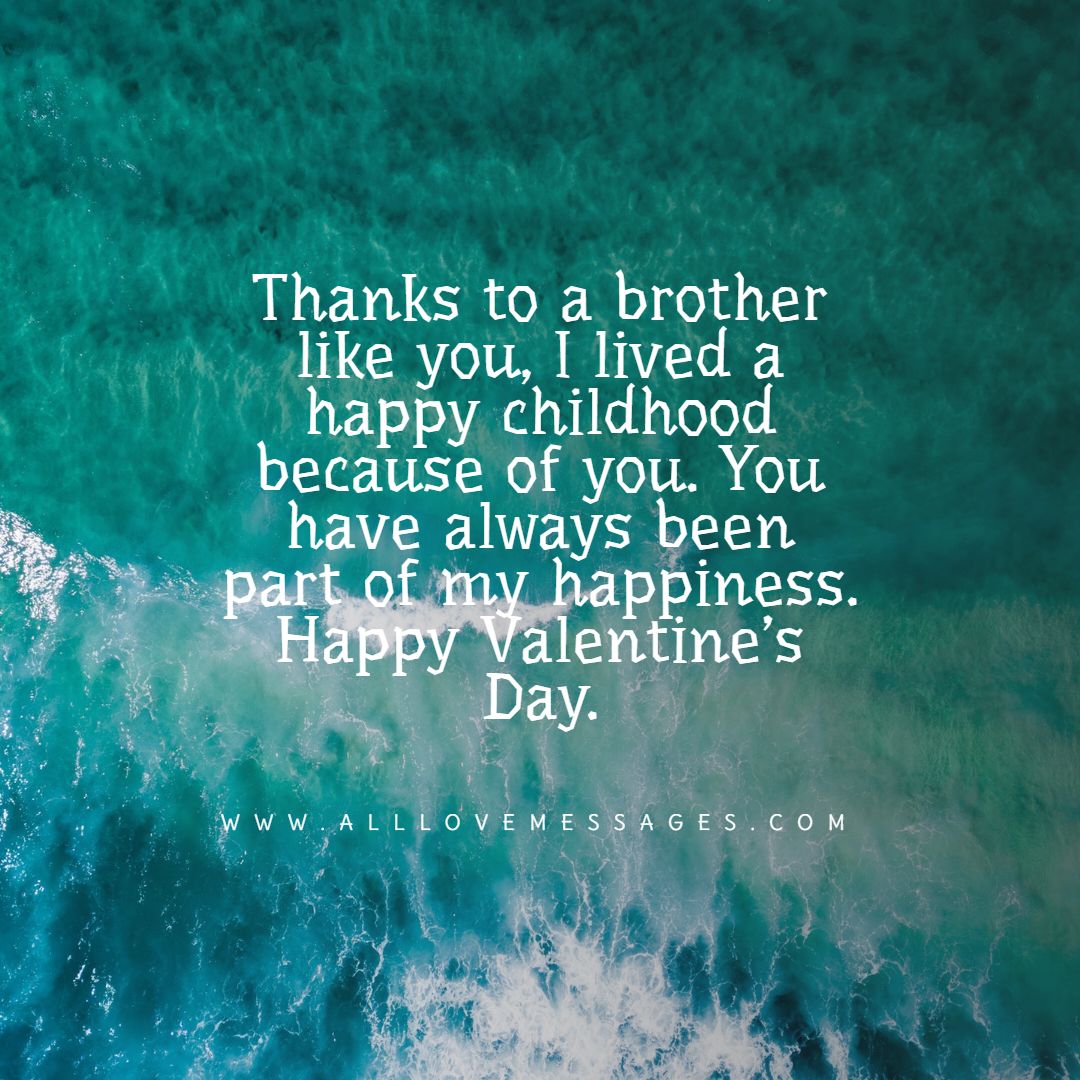 Thanks to a brother like you, I lived a happy childhood because of you. You have always been part of my happiness. Happy Valentine's Day.
Do you know why I'm proud of you? Because even when it's all dark around me, I can still feel your warm presence. Happy Valentine's Day brother.
Happy Valentine's Day. Growing up with a fantastic brother like you was a wonderful adventure. Whenever I think of you and what we've done together, I remember beautiful memories.
I still remember when Mom told me that I would soon have a brother to play with, but I never imagined that she was going to give me the whole world. Happy Valentine's Day bro.
Having a brother like you is just great. Know that all the moments we have shared together are among the best in my life. Happy Valentine's Day.
Dearest brother, you are like a lamppost that illuminates my way, making the journey safe. Happy Valentine's Day.
Read Also:I love you brother messages
There can be many types of love in life, but there is nothing more sincere like the love of a brother. Thanks for all you've been doing for me.
The days when we played together are over, but the good times we shared will remain forever in my heart. You are special brother; Happy Valentine's Day.
No one can afford to buy my childhood because the value of the bond with you is priceless. Happy valentine's day brother.
Interesting, today's is valentine and also another bright morning to show my brother, well-deserved love, just as he reciprocates.
The sky is always blue, so my love for you as a brother will never change the form, it is Valentine's Day, so I thought to let you know.
Sending my brother a Happy Valentine's Day celebration is not enough to show that I care, therefore prepare for a surprise of a lifetime.
Brother's of your perfect mold is scarce, so I will hold on to you for as long as I can hold on even beyond Valentine and eternity.
The reason why you go beyond the norm to make me happy still surprises me. I am excited to have a sweet brother who makes Valentine's Day worthwhile.
Having a brother as loving as mine is an impossible feat for others. Thank you for making me the envy of the town on Valentine's Day.
I know that other people will try to outshine us, but the bond that we share is far stronger than theirs, so our valentine should be spectacular.
The Valentine's Day morning breeze is pure and refreshing, just as the love I have for my brother. Nothing counts more when you are in the picture.
However, you spend Valentine's Day have it at the back of your mind that I am here to always love you, so a brother has fun like never before.
Before it was Valentine's Day, I already loved you unconditionally, so today's celebration is just a formality I must observe to pamper for my brother.
Call me crazy all you want, I will make today's Valentine's Day celebration quite extraordinary for us. Special brothers are a scarce commodity these days.
People show love to one another in different lovely ways, but my undying love for my brother is intoxicating and stronger than gifts and a fun-filled day.
It is yet another Valentine's Day, and I am super excited for the season. Brother, I hope you created a section for me in your schedule because I am all yours for today.
Plan big for today's Valentine celebration because today is a day for a brother to prove that they really love creatures as opposed to the general opinion.
Hi brother, I would love to wish you a Happy Valentine's Day in person, but before I do, here is a little text to keep you warm until we meet.
I will ensure that you are the only brother to get the best gift for Valentine. I cannot afford the costliest gift, but my little token is from the deepest part of my heart.
Congratulations on your latest award as the most distinguished brother on Valentine's Day. Live, enjoy, and reserve my gist about how you spent the season.
Brother, every reasonable person deserves a complement on Valentine's Day, for your exemplary nature, it will be a fair decision if I send a truck full of gratitude.
Picking you as the Valentine's Day's best brother was a straightforward decision to make because the award is a result of hard and consistent work.
Let us convince everyone else that we are the best siblings by marking today's celebration in a grand style and creating beautiful memories for future reference.
You will experience the ideal care a brother deserves on Valentine's Day, so prepare for an experience of a lifetime starting from today onwards.
May this be your best Valentine's Day celebration, so prepare for a jolly ride through the day of many fun and excitement.
Respect is due to a lovely brother who gets outside his comfort zone to make me happy, there are many more reasons to be grateful to God for having you.
Foolishness is letting Valentine's Day slip away without saying I Love You to a devoted brother. You know that I love you always.
God's plan for my brother on Valentine's Day is to make him as prosperous as his soul wishes; fortunately, it happens to be you.
On this day of lover's celebration, may you be surrounded with lots of love and romance. Wish you a very happy Valentine's Day dear brother.
 Dear brother, you were always by trust-worthy friend, a person whom I can always look up to. You are my best friend. Happy Valentine's Day
Dear brother, you are my best friend, my champion, my hero and the one whom I admire. Wish you lot of happiness and romance on this valentine's day. Happy Valentine's day
 You are the treasure of my secrets, you help and support me in every situation. Wish you love and romance on this occasion of Valentine's day.